Hurun China Metaverse Companies with the Greatest Potential 2022
The Hurun Research Institute today released the Hurun China Metaverse Companies with the Greatest Potential 2022 in Nansha District of Guangzhou, split into a Top 20, Top 50, Top 100 and Top 200. The report also includes a list of Hurun Metaverse Future Stars 2022.
HURUN RESEARCH INSTITUTE TODAY RELEASED
HURUN CHINA METAVERSE COMPANIES WITH THE GREATEST POTENTIAL 2022
BEIJING LED WITH 55 OF HURUN METAVERSE 200, FOLLOWED BY SHANGHAI WITH 33, SHENZHEN 23, HANGZHOU 15 AND GUANGZHOU 13 (INCLUDING 3 IN NANSHA). THE GREATER BAY AREA HAD 22% OF THE COMPANIES, WHILST YANGTZE RIVER DELTA REGION ACCOUNTED FOR 31%.
MAIN INDUSTRIES TODAY OF HURUN CHINA METAVERSE 200 LED BY SOFTWARE SERVICES LED WITH 17%, SEMICONDUCTORS 16% AND MEDIA AND ENTERTAINMENT 15%.
METAVERSE ESSENTIAL TECHNOLOGY ACCOUNTED FOR 38% OF HURUN CHINA METAVERSE 200, FOLLOWED BY APPLICATIONS 23%, PLATFORM TECHNOLOGY 20%, INTELLIGENT TERMINALS 10% AND NETWORK TECHNOLOGY 8%.
16% ARE STATE-OWNED ENTERPRISES, E.G. CHINA MOBILE, MANGO MEDIA; 84% ARE PRIVATE ENTERPRISES, E.G. XIAOMI AND NETEASE.
HURUN CHINA METAVERSE FUTURE STARS INCLUDED: SPI LANDSCAPE DESIGN, NETEASE ZHIQI, NINED DIGITAL, DAXIZHOU, SEQUOIADB, CHENJING TECHNOLOGY, GUOGUANG ELECTRIC, PHILISENSE TECHNOLOGY, CAPITALONLINE DATE, NET263, HYLINK DIGITAL, DANGHONG QITIAN, LLVISION, SENCITY, CROSS STARS, BIZCONF TELECOM, HIAR, ZQGAME, L&A DESIGN, SHENGXUNDA, KAISER, RASTAR, DAOKE CLOUD NETWORK, TATFOOK, CENTURY NETWORK, SICHUAN NEWSNET MEDIA, MEITU, ANYSOFT, WONDERSHARE AND PROFIT CULTURAL & CREATIVE.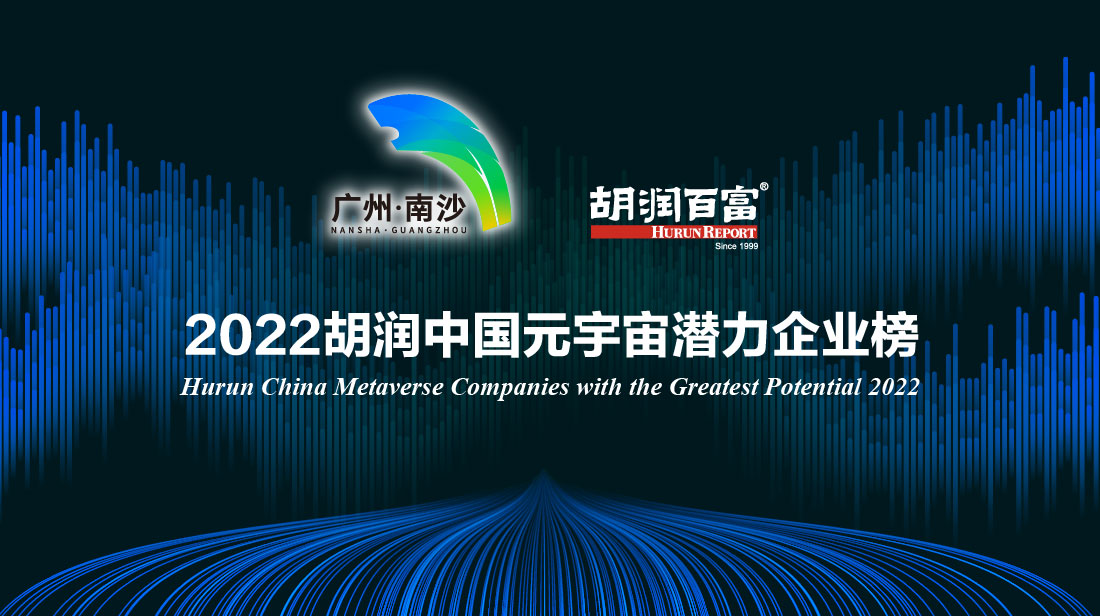 (15 June 2022, Guangzhou) The Hurun Research Institute today released the Hurun China Metaverse Companies with the Greatest Potential 2022 in Nansha District of Guangzhou, split into a Top 20, Top 50, Top 100 and Top 200. The report also includes a list of Hurun Metaverse Future Stars 2022.
To make the Hurun China Metaverse Companies with the Greatest Potential 2022 required a value of US$1bn or more. For the Hurun China Metaverse Future Stars, companies had a current value of less than US$1bn. The lists refer to China companies, including HK, Macao and Taiwan.
Today, Hurun Report is hosting the inaugural Hurun China Metaverse Conference & the Hurun China Metaverse Companies with the Greatest Potential 2022 press release in Nansha District of Guangzhou.
Nansha District has become a hot spot for innovation and entrepreneurship. The frontier field of the metaverse is the next important development direction of the Internet, which will profoundly change future production and lifestyle, and promote future industrial development. The establishment of Guangzhou Metaverse Innovation Alliance in Nansha not long ago fired Guangzhou's "first shot" in the "Metaverse Circuit", injecting new vitality into Guangzhou's accelerated construction of a global digital economy benchmark city and an international consumption center city. Today's release of the Hurun China Metaverse Companies with the Greatest Potential 2022 will also attract more metaverse companies to gather and develop.
Hurun Report Chairman and Chief Researcher Rupert Hoogewerf said: "Following on from our launch in December last year of the Hurun Global Unicorns Index with the Guangzhou Municipal People's Government, I am delighted today to release the Hurun China Metaverse Companies with the Greatest Potential 2022 in Nansha District of Guangzhou. Nansha District is a good place for metaverse-related companies to set up offices, especially since it is putting into place competitive policies to support metaverse-related business."
"Whilst the metaverse was first coined as a term thirty years ago, it has only been in the last year that the mainstream has started to concentrate on it, triggered in part last October when Facebook changed its name to Meta. Our metaverse list today is designed to help identify which companies in China have the most potential in the metaverse."
"Whilst it's still early days for the metaverse, make no mistake, the metaverse is a megatrend that is likely to have a profound impact on wealth creation. The number of users of the metaverse will reach 5 billion by 2030, and the potential market size of the metaverse economy is likely to hit US$10tn, according to a recent Citibank forecast."
"The lack of an accepted definition for the metaverse complicated our research. Many companies that we talked to, including some of China's largest by market cap, did not have a specific metaverse team, instead applying related technologies in their particular fields."
"VR/AR products and applications are leading the way for the metaverse today. Companies such as Shandong-based Goertek has a 70% market share of VR headsets, while Thunder Software Technology, Sunny Optical, Rockchip Electronics, etc. are also centered on VR. Platforms are beginning to integrate these technologies into their businesses, including travel group Trip.Com and real estate finder Ke Holdings."
"Each of Beijing, Guangdong, Shanghai and Zhejiang had their respective advantages in the metaverse. There are many platform technology companies in Beijing, such as Baidu, Egova, and Glodon; Guangdong has smart hardware, such as Huawei, OPPO, and Ubtech; Shanghai has advantages in the essential technology, such as Will Semiconductor, SenseTime and Semiconductor Manufacturing International; Zhejiang has a high proportion of application companies, such as Huayi Brothers, Songcheng Performance and Jinke Culture."
"To come up with our list of the Hurun China Metaverse Companies with the Greatest Potential 2022, we started out with a long list of over 2000 companies that fell into the definition of the metaverse, laid out according to the Beijing Information Industry Association 'China Metaverse White Paper', Tsinghua University's 'Metaverse Development Research Report', narrowing this list down throughout the course of our research to 200 companies."
"Media and entertainment companies are currently at the forefront of the metaverse, using existing technologies to explore the application possibilities of the metaverse. At the moment when the metaverse is still just beginning, games, film and television, and virtual IPs are currently relatively popular test fields."
"The metaverse needs an advanced digital infrastructure, but existing computing, storage and network infrastructures are not good enough to achieve a complete immersive experience. Therefore, MCU, GPU, etc. need stronger computing power to meet the work of the algorithm. The sensor needs to further improve the accuracy to obtain more accurate data; the memory needs more optimized storage space and faster reading speed; the network transmission speed also needs to be further improved, which helps to optimize the user experience. Therefore, the improvement of computing efficiency It is an important topic in the future, which is a challenge and a huge opportunity for various chip companies, especially the leading companies in the fields of GPU chips, MCU chips, LED chips, wifi chips, and sensor chips. Cosmic data processing relies on cloud computing, authentication mechanism relies on blockchain, content production relies on artificial intelligence, and devices rely on IoT to connect, so data companies must also have huge potential. This is why chip companies and data service companies lead the way, accounting for one-third of the list."
This is a brief English summary of the full Chinese press release which can be found at www.hurun.net. For media enquiries please contact our public relations team whose contact details can be found at the end of this report.
Metaverse Industry Distribution
Essential Technology accounted for 38% of the Hurun China Metaverse 200.

Geographical Distribution
Half of the companies are headquartered in Beijing, Shanghai and Shenzhen. The Guangdong-Hong Kong-Macao Greater Bay Area accounts for 22%, and the Yangtze River Delta region accounts for 31%.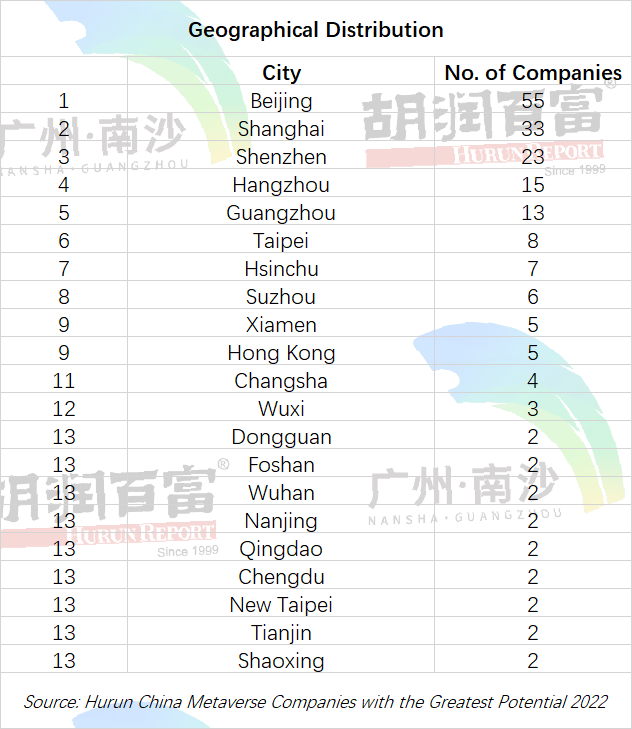 Industry Distribution
Listed or Not
90% are listed companies, such as Tencent and Alibaba. 10% are unlisted companies, represented by Huawei and Bytedance.
How many State-Owned Companies?
16% are state-owned enterprises, represented by the likes of China Mobile and Mango Excellent Media, whilst the rest are non-state-owned companies, such as Xiaomi and NetEase.
Year of Establishment
The average age of the companies on the list is 21 years, with the youngest being two-year-old Xiaodu and the most senior being 54-year-old Midea Group. The most senior companies are in the consumer electronics sector.

Future Star Enterprises
For companies with a value of less than US$1bn, Hurun Research found several companies that have already made a considerable impact or investment in the metaverse, the Hurun Metaverse Future Stars. These enterprises include: S.p.i Landscape Design, Netease Zhiqi, NineD Digital, DaXiZhou, SequoiaDB, Chenjing Technology, Guoguang Electric, Philisense Technology, Capitalonline Date, Net263, Hylink Digital, Danghong Qitian, Llvision, Sencity, Cross Stars, Bizconf Telecom, HiAR, Zqgame, L&A Design, Shengxunda, Kaiser, Rastar, Daoke Cloud Network, Tatfook, Century Network, Sichuan Newsnet Media, Meitu, Anysoft, Wondershare and Profit Cultural & Creative.
Methodology
The Hurun China Metaverse Companies with the Greatest Potential 2022 lists the Top 200 Chinese companies with the most potential in the Metaverse field with an enterprise value of over US$1bn.
The survey scope of this list covers companies set up in China. The information sources are public information of enterprises and industries.
Firstly, the research team read various white papers and reports, such as Beijing Information Industry Association 'China Metaverse White Paper', Tsinghua University 'Metaverse Development Research Report', etc., to understand the related industries of the Metaverse.
Then we began to narrow down those companies from the metaverse-related industries. The sectors of these companies included but are not limited to chips, display technologies, sensors, holographic technologies, games, digital currencies, virtual digital people, live broadcasts, online education, film and television media, Internet of Things, machine vision, artificial intelligence, blockchain, cloud computing, digital twin, virtual reality, augmented reality, smart wear, brain-computer interface, etc.
The next step was to determine the current activities and implementations of each company in the Metaverse field, the relationship between their main and secondary businesses with the core industries of the Metaverse. The final product was a list of the Top 200 companies with greatest potential in the metaverse.

About Nansha
Strategically located at the estuary of the Pearl River, Nansha New Area is the geometric center of the Guangdong-Hong Kong-Macao Greater Bay Area (GBA). 38 nautical miles away from Hong Kong and 41 nautical miles away from Macao, it is also the center of the GBA's "half-hour transportation circle". Covering an area of 803 km², Nansha has a population of over 1.2 million.
Nansha is known as the only state-level new area in Guangdong Province, the largest area of Guangdong Pilot Free Trade Zone, the Demonstration Zone for Comprehensive Cooperation between Guangdong, Hong Kong and Macao, and the only urban sub-center of Guangzhou. It functions as one of the major platforms for the high-standard development and opening-up in the GBA. Enjoying close geographical and cultural proximity with Hong Kong and Macao, Nansha has witnessed the implementation of major cooperation projects between Guangdong, Hong Kong and Macao, including the Hong Kong University of Science and Technology (Guang­zhou) and the Guangdong-Hong Kong In-depth Cooperation Park. Nansha is home to the largest container port in South China and the largest international cruise home port in China, as well as the newly-approved Comprehensive Bonded Zone and National Demonstration Zone for Promotion and Innovation of Import Trade. Nansha also serves as an important hub linking the domestic and international circulations. As a main support area for comprehensive national science center of the GBA, Nansha is building a batch of scientific and technological innovation platforms, such as Nansha Science City and International Special Zone for Talents. The aggregate output of its automotive industry has exceeded 100 billion yuan, while the strategic emerging industries are thriving, including artificial intel­ligence, life health, marine science, and aerospace. The construction of financial platforms such as the Guangzhou Futures Exchange are acceler­ating. More than 200 Fortune Global 500 companies have invested in Nansha.
Nansha enjoys an outstanding ecological environment, featuring a perfect integration of mountains, farmlands, rivers, sea, and towns. The charms of water town culture, Lingnan culture, and ocean culture are unique and lingering. Nansha' s Kylin dance, salt-water songs, and Gambiered Canton Gauze have been added into the list of intangible cultural heritage. Nansha boasts distinctive attractions: the "Nansha Man" Relics, dated back to 4,000 years ago and known as the earliest of its kind found in Guangzhou; Humen Fort Former Site, marking the first battle waged to resist the inva­sion of western colonists on modern Chinese history; Former Residence of the People's Musician Xian Xinghai; Nansha Tianhou Palace, the largest of its kind in Guangdong Province; Nansha Wetlands, one of the new Eight Sights of Guangzhou. It is also crowned as a most livable community by the United Nations, a national law-based government demonstration district, and one of the happiest cities (districts) in China.
About Hurun Inc.
Promoting Entrepreneurship Through Lists and Research
Oxford, Shanghai, Mumbai, Sydney, Paris
Established in the UK in 1999, Hurun is a research, media and investments group, promoting entrepreneurship through its lists and research. Widely regarded as an opinion-leader in the world of business, Hurun generated 6 billion views on the Hurun brand last year, mainly in China and India.
Best-known today for the Hurun Rich List series, telling the stories of the world's successful entrepreneurs in China, India and the world, Hurun's two other key series include the Hurun Start-up series and the Hurun 500 series, a ranking of the world's most valuable companies.
The Hurun Start-up series begins with the Hurun U30s, an award recognizing the most successful entrepreneurs under the age of thirty, and is today in seven countries. Next up are Hurun Cheetahs, Chinese and Indian start-ups with a valuation of between US$300mn to US$500mn, most likely to go unicorn with five years. Hurun Global Gazelles recognize start-ups with a valuation of US$500mn to US$1bn, most likely to go unicorn within three years. The culmination of the start-up series is the Hurun Global Unicorn Index.
Other lists include the Hurun Philanthropy List, ranking the biggest philanthropists, the Hurun Art List, ranking the world's most successful artists alive today, etc.
Hurun provides research reports co-branded with some of the world's leading financial insitutions, real estate developers and regional governments.
Hurun hosted high-profile events in the last couple of years across China and India, as well as London, Paris, New York, LA, Sydney, Luxembourg, Istanbul, Dubai and Singapore.
For further information, see www.hurun.net.
For media inquiries, please contact:
Hurun Report
Porsha Pan
Tel: +86-21-50105808*601
Mobile: +86-139 1838 7446
Email: porsha.pan@hurun.net
Grace Liu
Tel: +86-21-50105808
Mobile: +86 136 7195 4611
Email: grace.liu@hurun.net