'Exposure to new ideas' (69%), 'enriching life' (64%) two main reasons for Chinese high net worth parents to choose international education for children, followed by 'career advantages' (51%) and 'foreign language skills' (51%)
Chinese high net worth parents expect international education to make children more 'independent' (71%), 'responsible' (67%) and 'better at problem solving' (53%)
Worries include 'safety' (71%), 'ability to integrate' (52%) and 'loss of Chinese cultural identity' (51%)
Parents wanted their children to return to China after their study abroad because of 'favorable economic conditions' (59%), 'favorable start-up ecosystem' (56%), 'family and friends' (52%) and 'favorable return-home policies' (51%)
Trend of 'study abroad at home', especially with recent rise of quality international schools in China
Business is the most popular subject for overseas university students, followed by art/design (16%) and medicine (13%)
Average expenditure of education amounts to one fifth of household disposable income. The annual expenditure budget for primary and secondary schools is US$47,000, college education US$63,000 and postgraduate programs US$66,000.
90% satisfied with study abroad experience, of which one third 'very satisfied'
The Hurun Research Institute releases Fusion of Chinese and Western Culture - White Paper on 2021 International Education in China, in association with Beanstalk Education Group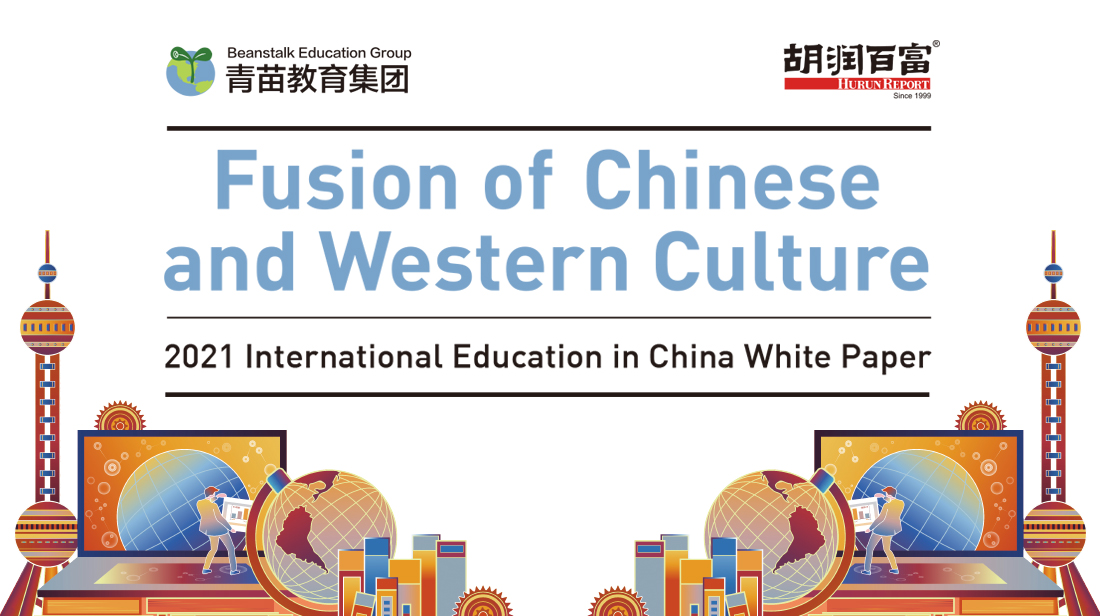 (22 March 2022, Shanghai) The Hurun Research Institute, in association with Beanstalk Education Group, today released the Fusion of Chinese and Western Cultures - White Paper on 2021 International Education in China. This 48-page report is the first to focus on the international education needs of Chinese high net worth families' in the post-pandemic world, exploring the changes in education needs and future trends of overseas study.
Between May and July 2021, Hurun Research first interviewed 10 international education experts, highlighting the dynamics behind changes in demand for international education in the post-pandemic era, and then surveyed 600 Chinese high net worth individuals to check the results. Respondents were made up of those who planned to send their children to study abroad, and those who themselves had studied abroad. The average wealth of respondents was the equivalent of US$5 million. The average age was 36 years old. By geographical region, 49% came from China's first-tier cities, 51% from second- and third-tier cities. 35% were male, 65% female. 40% were mid-level managers, 27% senior managers, and 18% entrepreneurs. 37% work in privately-owned enterprises, 36% multinationals and 20% state-owned enterprises.
The results show the post-pandemic expectations Chinese high net worth families have from an international education. Key findings included 'Sound personality/upbringing', as well as the abilities to have 'Independent thinking', 'problem solving' and a 'broad mind'.
In addition to the four traditional study abroad countries of the USA, UK, Canada and Australia, other European countries and countries along the 'Belt and Road' were also selected, showing a more diversified trend of studying abroad.
A key conclusion was the new trend to 'study abroad at home', especially with the recent rise of quality international schools in China.
In line with the ever-changing world, Chinese high net worth families have ever-growing demands for their children's education. They want a holistic and personalized approach to learning throughout their school life. There is a trend to families wanting their children to have confidence in their own nationality and culture while expanding their international view as China plays a bigger role on the world stage.
Shi Hua, Founder and President of Beanstalk Education Group, said: 'As the world continues to change, what kind of education will enable children to face the future? What is the value of education? These are the questions that all educators strive to answer and the answers that families are looking for. Beanstalk Education Group is delighted to partner with leading research platform Hurun Report on the Fusion of Chinese and Western Culture – A White Paper on 2021 International Education in China.'
Rupert Hoogewerf, Hurun Report Chairman and Chief Researcher, said: 'In a recent survey of ours on the happiness of Chinese high net worth individuals, respondents were happy with their family life, work, wealth and health, but relatively-speaking unhappy with their children's education. I hope this report can help give insights to parents and educators on the post-pandemic value of an international education. A bit like travel, an international education is designed to broaden one's mind and provide rich life experiences that will be of help to children throughout their lifetime. Hurun Report is delighted to partner with Beanstalk Education Group to publish Fusion of Chinese and Western Culture - White Paper on 2021 International Education in China.'
This is a brief English-language version of the Chinese press release. For the full release, please refer to the Chinese-language release.
Main Contents
l Chinese High net Wealth Families' Demand for International Education
1. Educational Concept: the Trend of Maturity and Rationality
Education is a critical question for each family. In accordance with Hurun Report, children's education (76%) is top of the agenda of Chinese high net worth families. Financial investment (65%) comes second. However, to judge from satisfaction evaluation, children's education comes last, reflecting their stronger thirst and expectation for better education.
Regarding the educational expectation of high net wealth individuals, 'sound personality/upbringing' ranks first (35%); 'independent ability in solving problems' and 'broad view and mind' come second (24%). It is noteworthy that 'better education background' and 'interest development' are of equal importance. This result reveals high net wealth individuals' viewpoints towards education are on the way to maturity and rationality.
2. Demand of International Education: Diversity
Chinese high net wealth family's demand for international education is diversified. International education has caught their attention.
Chinese high net wealth individuals expect children to have an 'independent mind' (71%), be 'responsible' (67%) and be a 'problem solver' (53%) through international education. Curiously, 'becoming a world citizen' ranks last, which shows China's high net wealth individuals' ever-increasing confidence in nationality and education.
Correspondingly, the high net wealth individuals paid more attention to thinking ability (22%). Problem-solving ability (15%) and practical ability (14%) followed.
Ideas about the purpose of international education are basically consistent. Main purpose is to broaden international view (69%) and enrich life experience (64%). Secondly, it is agreed that international education is favorable for future career planning (51%), improving foreign language ability (51%) and acquiring new knowledge (45%).
After children go abroad, parents give priority to safety (71%), including society, travel, health problem and property. Secondly, they are also scared of poor adaptability to language environment (52%) and shortage of Chinese cultural affiliation (51%).
Educational level (56%) is principal factor to select country for overseas study. Safety problem (54%) is the second factor. National situation (47%) ties with advantage of major (47%) for the third place.
Nowadays, business is the most popular subject among parents and overseas students, followed by art/design (16%). Medicine (13%) comes third. For overseas students, business, science and engineering remain top three majors.
3. Budget of International Education: One Fifth of Household Disposable Income
Hurun Report indicates that the average expenditure of children's education accounts for one fifth of household disposable income according to the Chinese high net wealth families' education planning for children. The average annual expenditure budget for young children (primary and secondary schools), college education and postgraduate program is about US$46,900, US$62,500 and US$65,600 respectively.
60% overseas students have expenditure equal to budget, while 30% students have more expenditure than budget. Nearly half of students overspend on recreational activity (55%). Basic needs of medical treatment (48%), tenement (45%) and meals (41%) are followed.
l Focusing on China's International Schools
According to public data, Chinese mainland has 907 certified international schools as of 2020, including 535 private international schools, 259 international departments (classes) of public schools. According to 2020 Development Report of China's International Schools, the number of students in international schools amounted to 610,000 in 2020. Private international schools and public schools account for 75%and 9% respectively.
High net worth individuals give priority to high quality faculty when they select international school (52%). This research data demonstrates that international resource integration competence (41%) and abundant curriculum system (35%) rank second and third respectively. The teaching idea combining Chinese and western elements (34%) ranks fourth. Faculty team includes foreign teachers' proportion, education background and certificates, life-guide teachers and logistics, etc.
Among diversified courses, parents value nature study (53%) most, followed by aesthetic education (37%) and sports curriculum (10%). Concerning nature study, biological resources knowledge (38%) is more wooed by parents. national history and cultural knowledge (32%) and eco-environment protection knowledge (29%) take second and third places. About aesthetic education, the most popular major among parents is art (32%) and design (27%), followed by music (19%) and fine arts (16%). About sports curriculum, ball games are most favored by parents: tennis (25%) and basketball (25%), followed by baseball (17%) and golf (17%).
l Trend of International Education in China
Trend 1: International education became impeller during education reform of the 21st Century
The core of global education reform is to put people first and enhance superior ability so as to deal with international challenges. Experts indicate that Chinese intellectuals in the 21st century shall be equipped with basic ability of cultural identity, national identity and international understanding through self-planning and sense of duty. International education precisely offers a personnel training mode for Chinese talents of international competitiveness, which is undoubtedly the largest development opportunity of international education in the 21st century.
Trend 2: As China's international education is based on China and faces the world, the mainstream will be the integration of Chinese and western elements
In terms of content and form of international education, the fusion of Chinese and Western cultures will have a leading role to play in the future. To be specific, it will be a mixture of culture, faculty, curriculum and teaching methods between China and foreign countries. Such fusion is combining advantages of local teaching and international education.
Trend 3: Provide channels going abroad and back for overseas talents, and retain them - international education with Chinese characteristics
The latest data published by the Ministry of Education indicate that the number of Chinese students studying abroad is 704,000 in 2019, with year-on-year growth of 6.3%. There were 580,000 returnees from overseas studies, a year-on-year increase of 12%.The tendency that overseas student goes back to China after graduation turns out to be clearer. This survey reveals that the majority of overseas students plan to return to China after graduation. More than 90% respondents plan to return to China after graduation or have embarked on personal career at home. The primary reason to return home and seek for development is favorable domestic economic conditions (59%). Favorable entrepreneurial environment (56%) is followed closely. Reunion with family members and friends (52%) and domestic personnel policy (51%) are also primary reasons that more than half of overseas students go back to work home.
Overseas students are generally satisfied with international education. Nearly 90% overseas students are very satisfied with international education. 30% students are very satisfied, while 60% students are satisfied.
The global layout that overseas students move toward different directions and centers gradually comes into being. Diversified destinations for overseas study will become the rage. More and more students will go to little-known destinations and countries along the Belt and Road for further study, which will meet the domestic demand for talents of minority languages.
Besides, a constant rise in Sino-foreign cooperative education programmes has turned 'overseas study at home' into a new tendency. Sino-foreign cooperative education programme refers to educational institution that is jointly conducted by foreign corporate organization, individual and related international organizations and licensed educational institution and other social organizations in China, and works in education and teaching within the territory of China, such as New York University Shanghai, Xi'an Jiaotong-Liverpool University, Duke Kunshan University and so on. International education experts believe that the school-running pattern jointly developed by China and foreign countries still enjoys a huge development space in China, which provides a new channel for students following international education.
Research Methodology
2021 International Education in China is a joint research project by Beanstalk Education Group and Hurun Report. This is the first special study on the variation trend of China's high net worth individuals pursuing international education in the post-pandemic world. It discovers changes on educational concept and demand for their children's education. Also, the future trend and expectation of China's international education are shown on the basis of educational experts' opinions and suggestions.
Project team adopts quantitative and qualitative research method so as to ensure achievements in depth and width. To guarantee authenticity and typicality of research results, the team, based on Hurun Report's sample database of high net wealth individuals, made stratified random sampling in accordance with gender, age, region and education demand and experience from May to July, 2021. The one-to-one special questionnaire survey is conducted among 600 respondents for quantitative study. The respondents mainly consist of the group whose children are accepting or plan to accept international education (parents) and the group that is accepting international education (overseas students). The purpose of this study is to contrast and analyze change and tendency of international educational idea and education experience between two groups. The sample includes major first-tier and second-tier cities nationwide. To this end, the project team invites ten experts of international education to make qualitative interview in an effort to discuss and analyze changes in Chinese high net wealth family's demand for international education in the post-pandemic era in a wider and deeper way.
About Beanstalk Education Group
THE ESSENCE OF CHINESE AND WESTERN CULTURES BEAUTIFULLY BLENDED
Founded in 1998 by Ms. Kathy Shi, Beanstalk Education Group is regarded as one of the leading international bilingual education pioneers in China. It is committed to providing young learners well-rounded international education that integrates Chinese and Western educational philosophies, cultural elements, and best practices. With accreditation by internationally acknowledged authorities including the International Baccalaureate (IB), the Western Association of Schools and Colleges (WASC) (British Council), and the British Council, Beanstalk is now helping tens of thousands of Chinese and international students to reach for their dreams with more than 20 campuses across China, with its 15-years education system covering from kindergarten to senior high school. Beanstalk strives to foster our students with dual native language capability, multi-culture vision and global mindset, and encourages the young future forces to adventure, return and stay.
BIBS' unique international bilingual curriculum is jointly developed by a group of outstanding Chinese and international education professionals. After more than 20 years of exploration, we ensure an organic fusion of the IB framework and the core courses from the Chinese National Education Program. We pick the essence of Chinese and Western cultures and fuse these elements together, and offer a true international bilingual curriculum that best suits the Chinese students' development needs.
Core sections from the Chinese National Education Program:
Chinese heart, Chinese cultural roots.
IB Curriculum:
World's highest level international curriculum.
One school multiple featured courses:
A-level, AP, special Arts high School and other special courses Give children more possibilities.
About Hurun Education
Hurun Education is the education platform of Hurun Report Inc. Hurun Education started out in 2008, with the launch of the Best of British Education, the first of the Hurun Schools Guide Series, targeting Chinese parents who were thinking of sending their children to study abroad. The series expanded to cover the US, Canada, Australia, Switzerland, New Zealand, Singapore and Hong Kong, as well as the Best of Cultural and Creative Arts.
Hurun Education is best-known for putting out definitive rankings. Its flagship is the Top International Schools in China, a ranking of the 100 best-regarded international schools in mainland China, as chosen by 300+ headmasters and other senior representatives from China's international school system.
Other lists include a universities ranking, based on the alumni that produce the most individuals from the Hurun Rich List, as well as the most successful education entrepreneurs and donors to the education sector.
About Hurun Inc.
Promoting Entrepreneurship Through Lists and Research
Oxford, Shanghai, Mumbai, Sydney, Paris
Established in the UK in 1999, Hurun is a research, media and investments group, promoting entrepreneurship through its lists and research. Widely regarded as an opinion-leader in the world of business, Hurun generated 6 billion views on the Hurun brand last year, mainly in China and India.
Best-known today for the Hurun Rich List series, telling the stories of the world's successful entrepreneurs in China, India and the world, Hurun's two other key series include the Hurun Start-up series and the Hurun 500 series, a ranking of the world's most valuable companies.
The Hurun Start-up series begins with the Hurun U30s, an awards recognizing the most successful entrepreneurs under the age of thirty, and is today in seven countries. Next up are Hurun Cheetahs, Chinese and Indian start-ups with a valuation of between US$300mn to US$500mn, most likely to go unicorn with five years. Hurun Global Gazelles recognize start-ups with a valuation of US$500mn to US$1bn, most likely to go unicorn within three years. The culmination of the start-up series is the Hurun Global Unicorn Index.
Other lists include the Hurun Philanthropy List, ranking the biggest philanthropists, the Hurun Art List, ranking the world's most successful artists alive today, etc…
Hurun provides research reports co-branded with some of the world's leading financial insitutions, real estate developers and regional governments.
Hurun hosted high-profile events in the last couple of years across China and India, as well as London, Paris, New York, LA, Sydney, Luxembourg, Istanbul, Dubai and Singapore.
For further information, see www.hurun.net.
For media inquiries, please contact:
Hurun Report
Porsha Pan
Tel: +86-21-50105808*601
Mobile: +86-139 1838 7446
Email: porsha.pan@hurun.net
Grace Liu
Tel: +86-21-50105808
Mobile: +86 136 7195 4611
Email: grace.liu@hurun.net