283 INDIVIDUALS AGED 30 AND UNDER MAKE HURUN CHINA UNDER30S 2022
FOR THE THIRD CONSECUTIVE YEAR, ENTERPRISE TECHNOLOGY WAS THE PREFERRED TRACK FOR THE HURUN CHINA UNDER30, ACCOUNTING FOR 20%, FOLLOWED BY ADVANCED MANUFACTURING, THE FASTEST GROWING SECTOR THIS YEAR; THEN BY EDUCATION, NEW RETAIL, ENTERTAINMENT & MEDIA, AND HEALTHCARE
BEIJING REMAINED PREFFERED CITY WITH 74 OF HURUN CHINA U30. SHANGHAI OVERTOOK SHENZHEN FOR 2ND PLACE
AGED 28, THE HURUN CHINA UNDER30S STARTED OUT 3 YEARS AGO ON AVERAGE
AVERAGE FINANCING TO SERIES A, WITH ONE IN FOUR OF THE HURUN CHINA UNDER30 RAISING OVER CNY100MN OF FINANCING
HURUN RESEARCH INSTITUTE RELEASES THE GUANGZHOU PANYU · HURUN CHINA UNDER30S 2022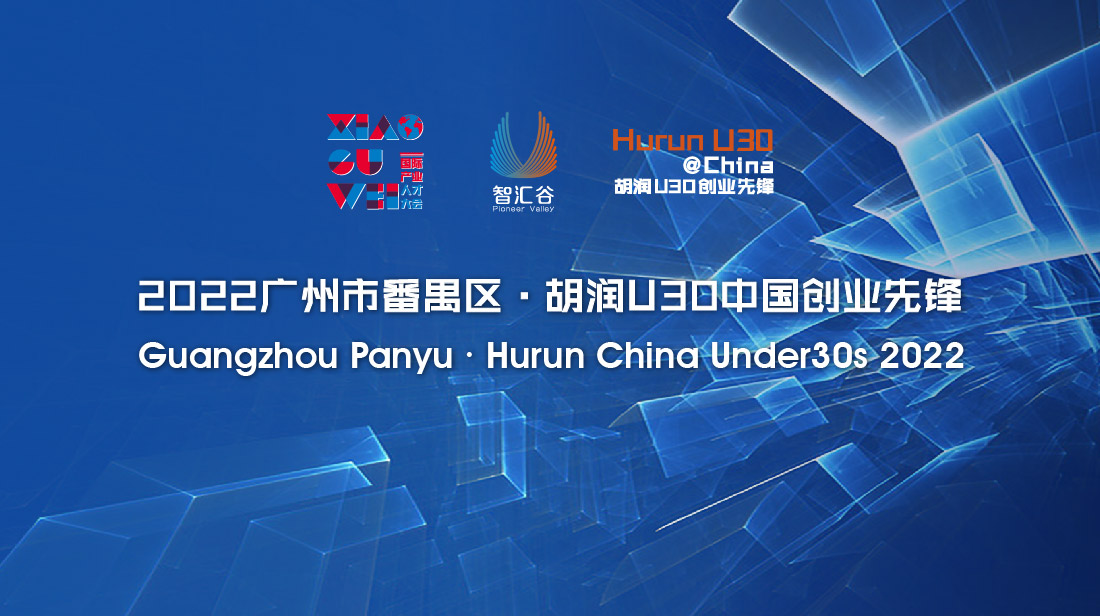 (15 December 2022, Panyu District in Guangzhou City) The Hurun Research Institute, together with Panyu District in Guangzhou, today released the Guangzhou Panyu · Hurun China Under30s 2022, a list of China's most successful entrepreneurs aged 30 and under. This is the sixth year of the list.
On December 15, the press conference of "Guangzhou Panyu · Hurun China Under30s 2022" was successfully held in Guangzhou University Town. The press conference was full of content, innovative forms and warm atmosphere. Young innovators and entrepreneurs from all walks of life gathered together to feel the new vitality, new opportunities and new future of Panyu. This press conference is an important measure for Panyu District to further study and implement the Spirits of the 20th National Congress of the Communist Party of China. It demonstrates the commitment and commitment of Panyu District to continuously unleash new growth drivers for innovation and entrepreneurship and to explore high-quality new talent for mass entrepreneurship and innovation. It also demonstrates the confidence and determination of Panyu District to actively seek breakthroughs and development under the current economic environment. We will make Panyu contribution to the strategic fulcrum of Guangzhou's development of the Guangdong-Hong Kong-Macao Greater Bay Area as a hub for high-level talents. Leaders from Panyu District and Sun Yat-sen University, the Hurun Report management team, university student representatives, young entrepreneurs and other guests attended the press conference to witness the global launch of the "Guangzhou Panyu · Hurun China Under30s 2022".
As one of the series activities of "The 6th Guangzhou University Town (Xiaoguwei) International Industrial Talent Conference", this list press conference was held in the location of the first future Industrial Science and Technology Park in Guangdong-Hong Kong-Macao Greater Bay Area, giving full play to the positioning and advantages of the "intellectual core" of Guangzhou University Town Greater Bay Area, and widely sent out the "invitation" to key universities and young entrepreneurs in Guangzhou. To further enhance the pertinence and influence of the list for young people, and create a strong atmosphere and favorable environment that encourages and supports innovation and entrepreneurship.
Mr. Tang Liming, Member of the Standing Committee of Panyu District Committee, Director of Organization Department and Director of Talent Work Bureau of Panyu District Committee, extended a warm welcome to all the distinguished guests and students. He stressed that this event is a meeting and sharing event of the 6th Talent Conference series. He hopes that through the release of this ranking, you can gain insight into the development direction of talent innovation, entrepreneurship and emerging industries in Panyu, Guangzhou, and pool your wisdom and strength for the construction of high-level talent highland in Guangdong-Hong Kong-Macao Greater Bay Area. He also sincerely invites you to attend the Talent Conference to be held next spring.
Mr. Hoogewerf answered the questions and doubts of the young delegates, guided and encouraged the emerging generation to take the lead in the field of mass entrepreneurship and innovation, and said that high-quality entrepreneurship development cannot be achieved without the local excellent business environment. Just like the Hurun U30 Pioneer List, which records young entrepreneurs, Panyu is also a hot land for cultivating new entrepreneurs.
It is understood that this list press conference is one of the series activities of "The 6th Guangzhou University Town (Xiaoguwei) International Industrial Talent Conference and U30 China Entrepreneurship Pioneer Conference". The conference will be jointly held by Panyu District and Hurun Report at the beginning of next year to build a multi-directional exchange service platform for industry, talent and capital. We will provide more young entrepreneurs with important opportunities and broad stages to display their ambitions and realize their dreams.
This year, 283 individuals from 256 companies and ten main industries made the list. The average age was 28, with 79% male and 21% female. On average, companies are three years old, have 140 employees and are funded to Series A.
Rupert Hoogewerf, Hurun Report Chairman and Chief Researcher, said: "The Hurun China Under30s are the cream of the entrepreneurs aged 30 or under. Which industries and cities they have chosen, gives an indication of which industries and cities are attracting the brightest and best entrepreneurs of their generation."
"The Hurun Under30s series is now in eight countries around the world, and expected to grow to 20 countries within two years, bringing together a 'family' of the most dynamic and exciting young entrepreneurs in the world today."
"There is a clear trend towards serial entrepreneurs, even in the Under30s."
"The rolemodels they look up to give an insight into what type of entrepreneur they want to become. Elon Musk, Steve Jobs and Warren Buffett are their preferred international rolemodels, whilst Cao Dewang of Fuyao Glass, Ren Zhengfei of Huawei and Lei Jun of Xiaomi are their preferred Chinese rolemodels."
"I hope the Hurun China Under30s can give these young entrepreneurs a platform to grow to new heights."
"Which industries do the Hurun China Under30s consider to be the industries of the future? AI, new energy and healthcare."
This is a brief summary of the Chinese-language press release. For the full press release in Chinese, please see www.hurun.net.
By Industry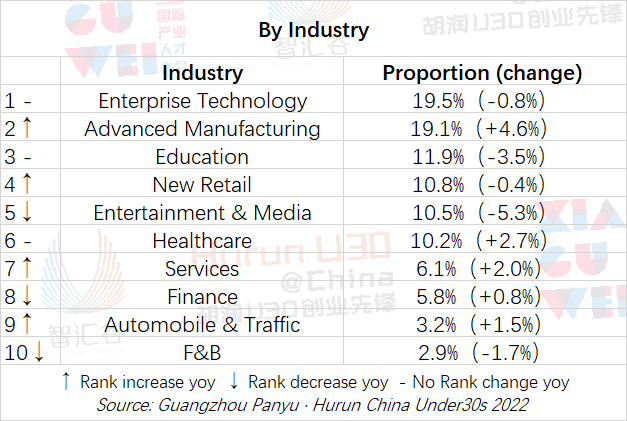 Geographical Distribution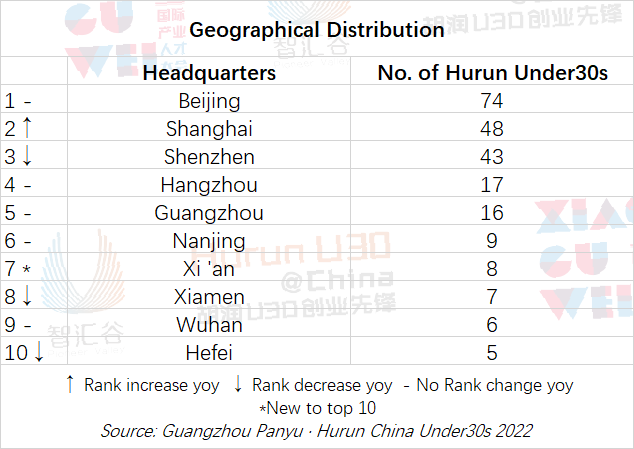 Monies Raised

Financing Rounds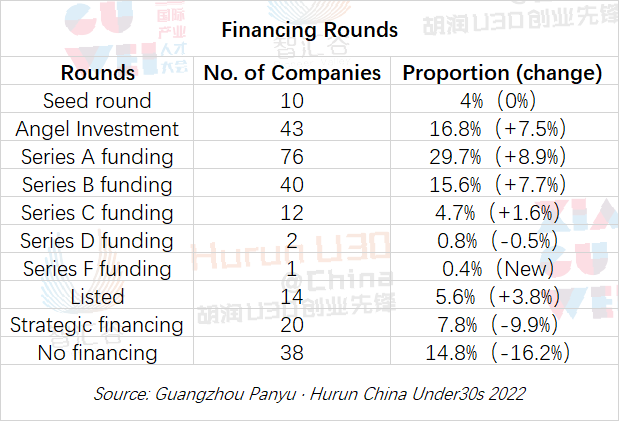 Most Active Early Stage Venture Capitalists
How many years since founding the business

Size of Business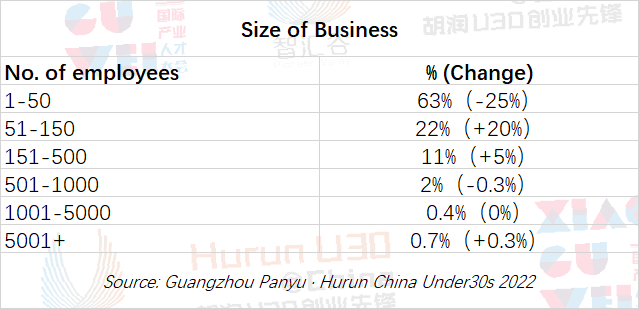 Graduate School, Degree & Major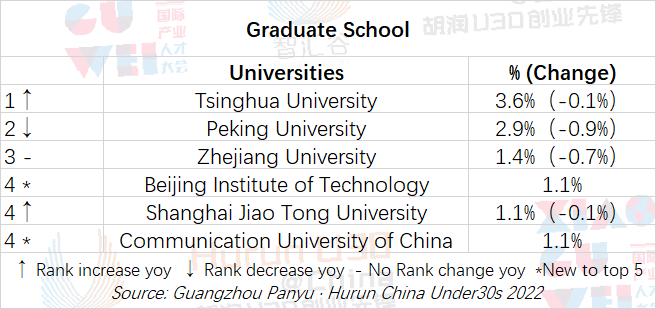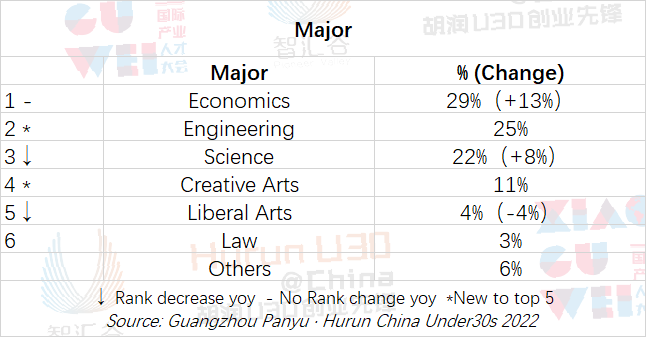 Guangzhou Panyu · Hurun China Under30s 2022

About Panyu District, Guangzhou City
Located in the central and southern part of Guangzhou and in the center of Greater Bay Area, Panyu is a key road and transportation hub connecting the east-west route and the south-north of the Bay. It is a university town of Guangzhou with the most concentrated science, education and innovation resources in South China. It has the resource advantage of 12 universities such as Sun Yat-sen University and South China University of Technology, 213 laboratories above the municipal level, 39 academicians, 38 "Cheungkong Scholars" and more than 200,000 teachers and students. It is not only the "intellectual core" with the most abundant scientific innovation and talent resources in the Greater Bay Area, but also the "treasure island" of talents and the source of innovation in South China.
In recent years, Panyu District has always adhered to the concept of "talents are the first resource", actively leveraged the positioning and advantages of the "intellectual core" of the Greater Bay Area, a university city of Guangzhou, and made full use of the efforts of the whole district to provide a high-quality ecosystem for young people in innovation and entrepreneurship. We will continue to improve the ecology of talent development. Panyu District takes the lead in setting the quality benchmark of "Guangzhou University Town International Talent Ecological Demonstration Zone", establishing and improving the complete and efficient talent chain, industrial chain, innovation chain, capital chain and service chain of Guangzhou University Town, optimizing and improving the one-stop service guarantee for high-level talents. We will promote the iteration and upgrading of talent policies. In recent years, Panyu has issued the "1+4" Industrial Talent Policy and the "Opinions on Vigorously Implementing the Talent-Led Development Strategy and Accelerating the Development of a New Era Talent District" (Panyu Talent Ecology 30 Articles). Over the past five years, Panyu has allocated nearly 700 million yuan in talent subsidies and supported 7,791 innovation and entrepreneurship teams and individuals. Promoting industrial development and talent concentration resonate with each other. We will strengthen the integration of industries, universities, research institutes and applications. Focusing on strategic emerging industries such as digital economy and industrial Internet, artificial intelligence, chips, intelligent equipment and core systems, Panyu District has introduced influential industrialization projects, incubated and cultivated a number of high-tech enterprises, and established an innovation model of "government-led - market-oriented operation, collaborative local transformation, and Guangzhou University Town policy source - city-wide acceptance". We will accelerate the construction of bases for transforming scientific and technological achievements around university towns, promote the efficient transfer and transformation of scientific and technological achievements by universities and the deep integration of industry, university and research institutes, further unleash the vitality of scientific and technological resources and the potential for innovation, and accelerate the commercialization of advanced technologies and products. At present, Guangzhou University Town · Zhongguancun Qingchuang Foreign Exchange is officially launched and has introduced a number of high-quality projects, such as Guangzhou University Town (Guanggong) Science and Technology Fruits Transformation Base, Guangdong-Hong Kong-Macao Greater Bay Area (Panyu) Haichuang Talent Science and Innovation Center, Xiaopeng Huitian and so on.
About Hurun Inc.
Promoting Entrepreneurship Through Lists and Research
Oxford, Shanghai, Mumbai, Sydney, Paris
Established in the UK in 1999, Hurun is a research, media and investments group, promoting entrepreneurship through its lists and research. Widely regarded as an opinion-leader in the world of business, Hurun generated 6 billion views on the Hurun brand last year, mainly in China and India.
Best-known today for the Hurun Rich Index series, telling the stories of the world's successful entrepreneurs in China, India and the world, Hurun's two other key series include the Hurun Start-up series and the Hurun 500 series, a ranking of the world's most valuable companies.
The Hurun Start-up series begins with the Hurun U30s, an awards recognizing the most successful entrepreneurs under the age of thirty, and is today in seven countries. Next up are Hurun Cheetahs, Chinese and Indian start-ups with a valuation of between US$300mn to US$500mn, most likely to go unicorn with five years. Hurun Global Gazelles recognize start-ups with a valuation of US$500mn to US$1bn, most likely to go unicorn within three years. The culmination of the start-up series is the Hurun Global Unicorn Index.
Other lists include the Hurun Philanthropy Index, ranking the biggest philanthropists, the Hurun Art Index, ranking the world's most successful artists alive today, etc…
Hurun provides research reports co-branded with some of the world's leading financial institutions, real estate developers and regional governments.
Hurun hosted high-profile events in the last couple of years across China and India, as well as London, Paris, New York, LA, Sydney, Luxembourg, Istanbul, Dubai and Singapore. Upcoming Hurun Under30s events in the world include Boston for the East Coast US Under30s on Jan 14 and Abu Dhabi for the UAE Under30s on Mar 16-18. Others include Luxembourg, London, Berlin, Paris, Mumbai and Barcelona in Q1 2023.
For further information, see www.hurun.net.
For media inquiries, please contact:
Hurun Report
Porsha Pan
Tel: +86-21-50105808*601
Mobile: +86-139 1838 7446
Email: porsha.pan@hurun.net
Grace Liu
Tel: +86-21-50105808
Mobile: +86 136 7195 4611
Email: grace.liu@hurun.net