109 SELF-MADE women BILLIONaires in world, DOWN 15, BUT STILL MORE THAN PRE-COVID
'american roofing queen' DIANE HENDRICKS, 76, overtook wu yajun to become the world's richest self-made women after doubling her wealth to us$17bn
CHINA HAS 62% OF WORLD'S SELF-MADE WOMEN BILLIONAIRES with 68, DOWN 10, triple USA in second place with 23; UK THIRD WITH 5.
6 NEW FACES, FEWEST IN A DECADE, COMPARED WITH 19 LAST YEAR. 5 FROM CHINA
Shenzhen OVERTAKES BEIJING FOR FIRST TIME TO BECOME self-made womEn billionaireS CAPITAL OF THE WORLD with 11. TOP FIVE CITIES ALL FROM CHINA: beijing 2nd with 9, shanghai 3rd with 8, hangzhou 4th with 7, guangzhou 5th with 4.
HEALTHCARE main source of wealth WITH 15, followed by consumer goods(13), RETAIL(11), software & services(9), AND energy(8)
517 WOMEN ON THE HURUN GLOBAL RICH LIST 2023, ACCOUNTING FOR 16%. 48% SELF-MADE, INCLUDING 109 WITH PERSONAL WEALTH OF MORE THAN US$1BN. 52% ARE INHERITED WEALTH
of TOP 20 RICHEST WOMEN IN WORLD, only 1 SELF-MADE AND 19 INHERITED. Francoise Bettencourt Meyers, 69, OF L'OREAL WITH US$80BN, UP 1%, was RICHEST WOMAN IN THE WORLD
Hurun Research Institute releases Hurun Richest Self-Made Women in the World 2023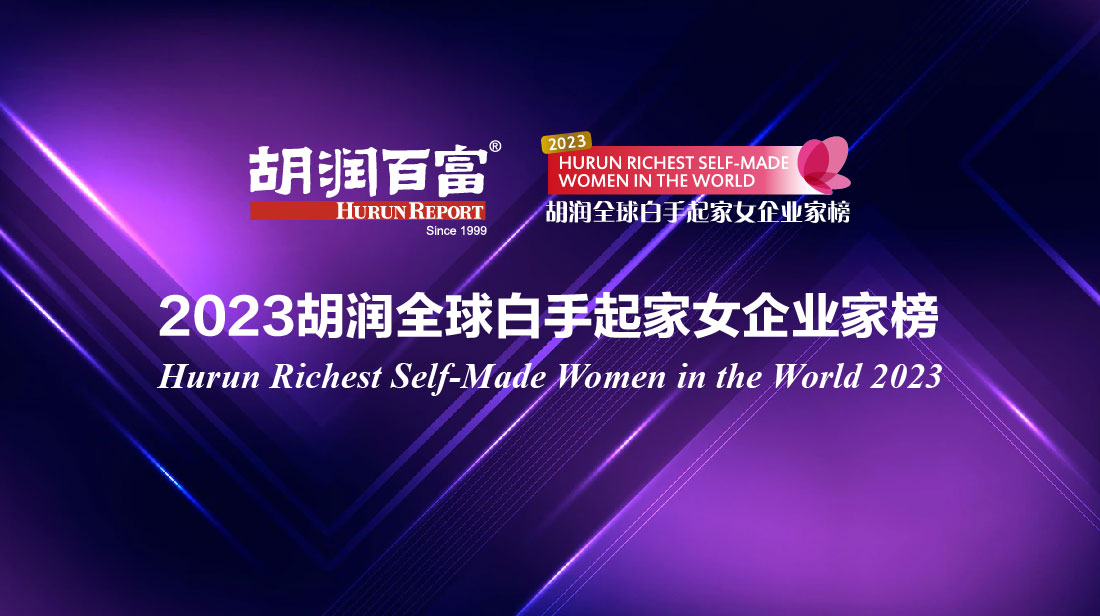 (13 April 2023, Shanghai, China and Mumbai, India) The Hurun Research Institute today released the Hurun Richest Self-Made Women in the World 2023, a list of the self-made women billionaires in the world. This is the 13th year of the list. Wealth is a snapshot of 16 January 2023, drawn from the recently released Hurun Global Rich List 2023.
Hurun Research Institute found 109 self-made women billionaires, down 15, from 13 countries.
29 saw their wealth increase, of which 6 were new faces. 101 people saw their wealth go down or stay the same, of which 21 dropped out. Total wealth was down 16%. 75% made their money from listed companies.
The average age was 61 years old, 5 years younger than the average age of the recently-released Hurun Global Rich List. 5 are 45yrs or under.
54% sell to businesses, whilst 46% sell directly to consumers. 66% make physical products, whilst 34% sell software & services.
Rupert Hoogewerf, chairman and chief researcher of Hurun Report, said, "The Hurun Richest Self-Made Women in the World 2023 represents the world's most successful women in business. Whilst both the number of self-made women billionaires dropped 12% and their wealth was down 16%, it is important to note that they are still higher than pre-Covid levels."
"For the first time since records began thirteen years ago, the richest self-made woman in the world is not Chinese. 'Roofing Queen' Diane Hendricks, 76, of ABC Supply has overtook Wu Yajun of China to become the World's Number Women, after a resurgent US housing market helped her double her wealth."
"Healthcare, consumer goods and retail are the main sources of wealth for the world's most successful female entrepreneurs. Software & services, chemicals and industrial products saw more female entrepreneurs fail this year."
This is a brief summary of the Chinese-language press release. For the full press release in Chinese, please see www.hurun.net.
Top 10 Self-Made Women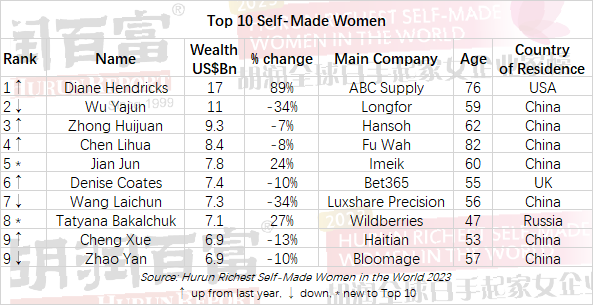 Where do they live?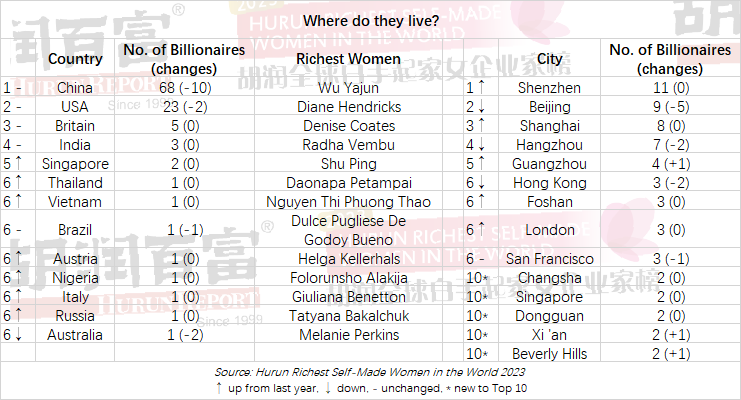 By Industry – Self-Made Women Billionaires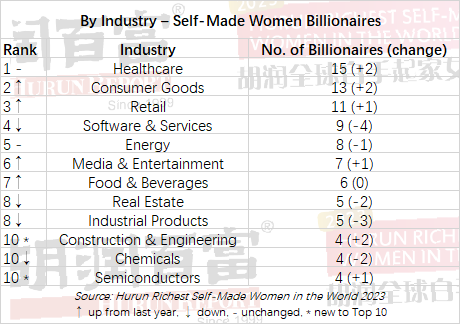 Who's up?
New Faces – Self-Made Women Billionaires

Biggest Risers – Self-Made Women Billionaires

And, who's down?
Fan Hongwei dropped the most, mainly due to a shareholder restructuring.
Biggest Losses – Self-Made Women Billionaires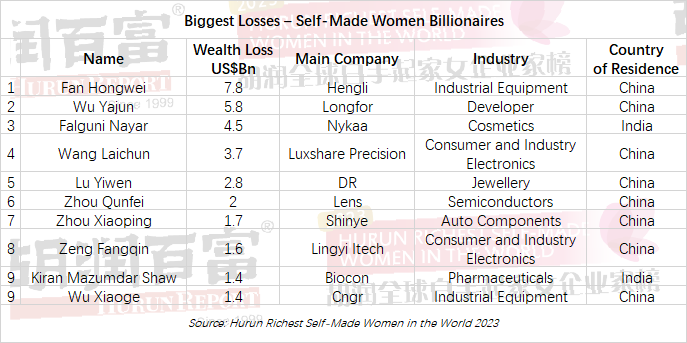 Top Drop-offs – Self-Made Women Billionaires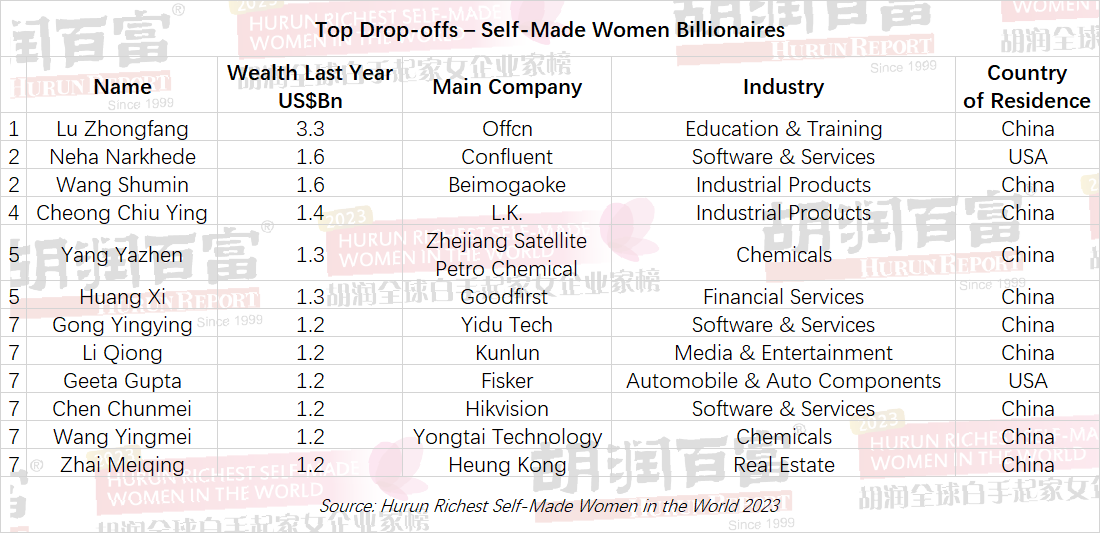 Who are the Youngest?
Youngest Self-Made Women Billionaires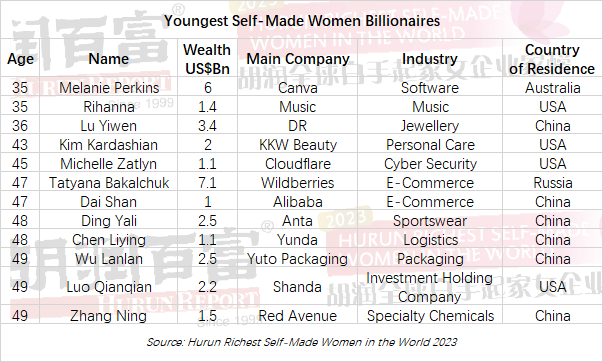 Top 20 Richest Women in World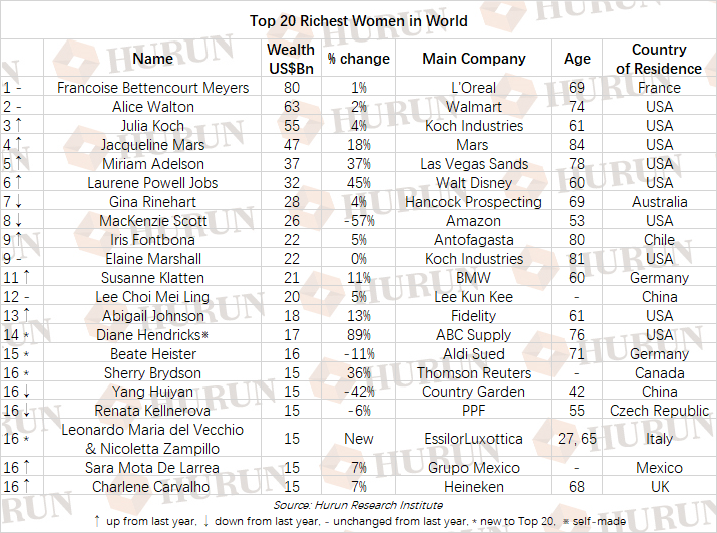 Stats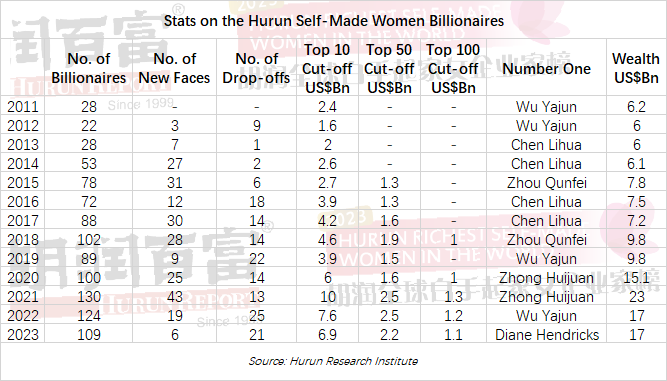 About Hurun Inc.
Promoting Entrepreneurship Through Lists and Research
Oxford, Shanghai, Mumbai, Sydney, Paris
Established in the UK in 1999, Hurun is a research, media and investments group, promoting entrepreneurship through its lists and research. Widely regarded as an opinion-leader in the world of business, Hurun generated 6 billion views on the Hurun brand last year, mainly in China and India.
Best-known today for the Hurun Rich List series, telling the stories of the world's successful entrepreneurs in China, India and the world, Hurun's two other key series include the Hurun Start-up series and the Hurun 500 series, a ranking of the world's most valuable companies.
The Hurun Start-up series begins with the Hurun U30s, an awards recognizing the most successful entrepreneurs under the age of thirty, and is today in seven countries. Next up are Hurun Cheetahs, Chinese and Indian start-ups with a valuation of between US$300mn to US$500mn, most likely to go unicorn with five years. Hurun Global Gazelles recognize start-ups with a valuation of US$500mn to US$1bn, most likely to go unicorn within three years. The culmination of the start-up series is the Hurun Global Unicorn Index.
Other lists include the Hurun Philanthropy List, ranking the biggest philanthropists, the Hurun Art List, ranking the world's most successful artists alive today, etc…
Hurun provides research reports co-branded with some of the world's leading financial institutions, real estate developers and regional governments.
Hurun hosted high-profile events in the last couple of years across China and India, as well as London, Paris, New York, LA, Sydney, Luxembourg, Istanbul, Dubai and Singapore.
For further information, see www.hurun.net.
For media inquiries, please contact:
Hurun Report
Porsha Pan
Tel: +86-21-50105808*601
Mobile: +86-139 1838 7446
Email: porsha.pan@hurun.net
Grace Liu
Tel: +86-21-50105808
Mobile: +86 136 7195 4611
Email: grace.liu@hurun.net
Hurun Richest Self-Made Women in the World 2023