Hurun Most Innovative Pearl Companies in the World 2020 released today
Of the Top 50, 24 are from China, 9 from Japan, 7 from the US, 5 from Australia and 1 each from Switzerland, France, UK, Canada and the Philippines
Mikimoto topped the list, followed by Tasaki and China's top entry Ruans
15 Zhuji pearl companies made the Top 50, led by Ruans, Pure Pearl, Grace and Angeperle
Average age of the Japan pearl companies is 80 years, US 70 years, Australia 50 years and China 20 years
2020 Shanxiahu freshwater pearl regional brand value valuation reaches US$8.2bn
Hurun Research Institute releases the Hurun Most Innovative Pearl Companies in the World 2020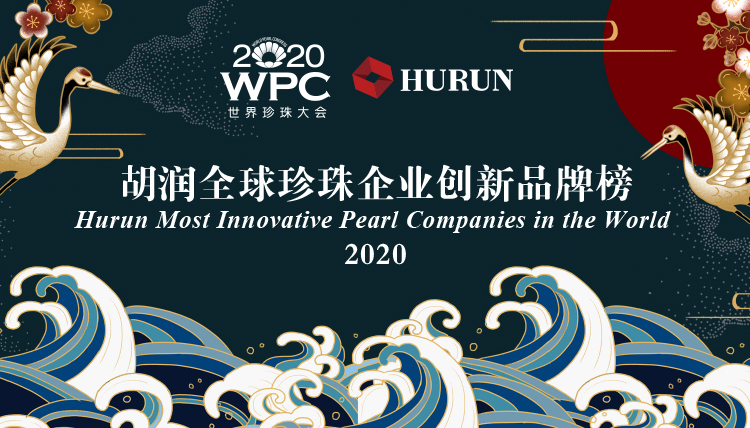 (13 November 2020, Zhuji) The Hurun Research Institute today released the Hurun Most Innovative Pearl Companies in the World 2020. This is the first time the Hurun Research Institute release a list of the pearl industry.
Rupert Hoogewerf, Hurun Report Chairman and Chief Researcher, said: "I hope this list will encourage global pearl companies to pay more attention to innovation, including brand marketing, traditional cultivation, processing methods, pearl design and sales models. I also hope that this list will encourage more entrepreneurs to support innovation in this industry and help consumers sort out which pearl brands and industrial clusters are doing well."
"Innovation is required, especially as the output of pearls in China and the rest of the world has been shrinking, on the back of sustainable production. In China, for example, the annual output of pearls has shrunk from 3,050 tons ten years ago to 700 tons a couple of years back, according to China Fisheries Statistical Yearbook."
"China dominates the world's freshwater pearls, with the other three major pearl industry clusters, led by the Akoya pearl from Japan, South Sea pearls from Australia and black pearls from Tahiti."
"It is hard to imagine that the pearl capital of China was born in the town of Shanxiahu in Zhuji in the seventies, which today has a population of less than 30,000, yet produces 70% of the world's freshwater pearl production."
This is a brief English language summary of the full Chinese press release which can be found at www.hurun.net. For media enquiries please contact our public relations team whose contact details can be found at the end of this report.
Hurun Most Innovative Pearl Companies in the World 2020
The companies on the list come from 9 countries, of which China accounts for 48% and non-China companies accounts for 52%.
As the world's largest pearl producer, China has the most companies on the list, with a total of 24, of which 15 are in Zhuji. 9 in Japan, 7 in the US, and 5 in Australia. In addition, Switzerland, France, the UK, Canada and the Philippines each had one company on the list.
| | | |
| --- | --- | --- |
| | Country | No. of Companies |
| 1 | China | 24 |
| 2 | Japan | 9 |
| 3 | US | 7 |
| 4 | Australia | 5 |
| 5 | Switzerland | 1 |
| 5 | France | 1 |
| 5 | UK | 1 |
| 5 | Canada | 1 |
| 5 | Philippines | 1 |
Source: Hurun Most Innovative Pearl Companies in the World 2020
Hurun Most Innovative Pearl Companies in the World 2020
| | | | |
| --- | --- | --- | --- |
| Rank | Brand | Country | Headquarters |
| 1 | Mikimoto | Japan | Tokyo |
| 2 | Tasaki | Japan | Kobe |
| 3 | Ruans | China | Zhuji |
| 4 | Paspaley | Australia | Darwin |
| 5 | Robert Wan | France | French Polynesia |
| Top 10 | GN Pearl | China | Shenzhen |
| Top 10 | Grace | China | Zhuji |
| Top 10 | Jewelmer | Philippines | Manila |
| Top 10 | OSM | China | Huzhou |
| Top 10 | Pure Pearl | China | Zhuji |
| Top 50 | American Pearl | US | New York |
| Top 50 | Angeperle | China | Zhuji |
| Top 50 | Assael | US | New York |
| Top 50 | Atlas | Australia | Perth |
| Top 50 | Autore | Australia | Sydney |
| Top 50 | Changyu | China | Zhuji |
| Top 50 | Fenix | China | Zhuji |
| Top 50 | Galatea | US | Los Angeles |
| Top 50 | GVOR | China | Zhuji |
| Top 50 | Hai Tian Sheng | China | Zhuji |
| Top 50 | Helas | Australia | Melbourne |
| Top 50 | Heren | China | Sanya |
| Top 50 | Hodel | Switzerland | Lucerne |
| Top 50 | Honora | US | New York |
| Top 50 | Huibao | China | Zhuji |
| Top 50 | Imperial Pearl | US | East Providence |
| Top 50 | Kailis | Australia | Perth |
| Top 50 | Kaneko | Japan | Kobe |
| Top 50 | Kitamura | Japan | Tsushima |
| Top 50 | Kyoto Pearl | UK | London |
| Top 50 | Man Sang | China | Hong Kong |
| Top 50 | Mastoloni | US | New York |
| Top 50 | Moon Label | Japan | Kobe |
| Top 50 | Nishi Pearls | Canada | Montreal |
| Top 50 | Pearl Paradise | US | Los Angeles |
| Top 50 | Pearl Royal | China | Beihai |
| Top 50 | Rio Pearl | China | Hong Kong |
| Top 50 | Royalo | China | Zhuji |
| Top 50 | Runhe | China | Zhuji |
| Top 50 | Seibido Pearl | Japan | Tokyo |
| Top 50 | Shaohe Pearl | China | Shantou |
| Top 50 | Shui Nian Hua | China | Zhuji |
| Top 50 | Song Pearl | China | Zhuji |
| Top 50 | Takahashi | Japan | Kobe |
| Top 50 | Tenplus | China | Zhuji |
| Top 50 | Tian Di Run | China | Zhuji |
| Top 50 | Tokyo Pearl | Japan | Tokyo |
| Top 50 | Uwakai | Japan | Uwajima |
| Top 50 | YesPearl | China | Zhanjiang |
| Top 50 | Zhen Shi Yuan | China | Hong Kong |
Zhuji Shanxiahu Pearl District Brand Value
Shanxiahu of Zhuji is one of the world's leading freshwater pearl industry clusters. The Hurun Research Institute's assessment is conducted from multiple perspectives such as regional financial benefits, regional industrial chain construction, regional industrial supporting research and development, comprehensive innovation of industrial clusters, and regional social responsibility. It is based on a comprehensive evaluation of the total pearl output value, corporate profit margins, price-earnings ratios of listed companies in related industries, and the contribution rate of Zhuji regional pearl brands in the Shannxiahu area.
In the regional brand value, the evaluation of the added value of pearl cultural tourism is especially included. As a new format of pearl cultural industry and tourism highly integrated, pearl cultural tourism has become an important extension of Zhuji pearl industry development.
Based on the comprehensive evaluation of the Hurun Research Institute's valuation methods, the 2020 Shanxiahu regional brand value was US$8.2bn.
Methodology
Hurun Most Innovative Pearl Companies in the World 2020 adopts qualitative and quantitative comprehensive research methods. Preparation is divided into three steps. Firstly, we collected nearly 300 pearl companies from the pearl associations and public information of the major pearl industry cluster countries in the world. After that, we screened out 100 potential list candidate companies (confirm their main business, company scale, brand influence, etc.). Finally, based on the pearl's industrial cluster perspective, combined with the four dimensions of brand strategy, business operation, technical strength and sustainable development, a total of 11 indicators were quantified and comprehensively scored, and the list was finally selected.
The list of selected companies is the main business of pearls, and covers the entire pearl industry chain (cultivation, processing, design and marketing), including pearl derivatives companies. Comprehensive jewellery brands that do not focus on pearls (such as Chow Tai Fook and Lao Fengxiang), and artificial pearl companies (such as Majorica) are not included in the list.
The information sources for this list are mainly public information provided by local governments and companies. There may be some companies that are eligible for the list but are not on the list due to lack of public information.
The selection of the list is based on a comprehensive consideration of four dimensions. Some companies with outstanding performance in a single field are not on the list.
About Shanxiahu
As the largest freshwater pearl culturing, processing, trading and R&D base in China, Shanxiahu Town of Zhuji City owns the world's largest freshwater pearl trading market and China's only provincial level pearl industrial park. Shanxiahu Town has been named "Capital of Pearl in China" by the Development Research Center of the State Council and is one of the jewelry and jade characteristic bases in China. Shanxiahu pearls have been shining for more than 50 years since the first pearl oyster was sowed. The town has created a miracle in the annual output of the freshwater pearls, which accounts for 80% and 70% of the total output of freshwater pearls in China and in the world respectively.
Shanxiahu has successfully held 11 sessions of China (International) Pearl Festival. Shanxiahu pearls have been renowned at both home and abroad and the pearl industry continues to show its glamour in the economic transformation. In term of pearl industry transformation, the town has issued "The Special Action Plan of Zhuji City for Digital Transformation of Pearl Industry" to fully support the precise transformation and has comprehensively promoted green cultivation. The town has developed freshwater cultivation modes, led by the artificial intelligence biological targeted cultivation mode developed by Qinghu Agricultural Science and Technology Center and the factory-like circulation cultivation mode developed by Berella, and realized the overall improvement of environmental protection, pearl quality and breeding cycle. In term of innovative design, the town has built a provincial level scientific and technological innovation platform based on 7 centers, namely, Pearl Research Institutes, Jewelry Innovative Design Center, Jewelry and Jade Quality Supervision and Testing Center, Pearl Digital Economy Center, Pearl Town Exhibition Center, Innovation, Entrepreneurship and Incubation Center and Pearl Industry Service Center; has built a platform system integrated by such core industries as life health industry, digital economy industry and fashion culture industry; promoted the construction of amber and jade industrial park, and further diversified the business types of jewelry industry and set trend for the modern jewelry by building international boutique section in jewelry city and enhancing the design and styles of the products. In line with the development of new economy, new business type and new model, the town has been committed to building the largest digital jewelry trading platform base in China and has made great efforts to develop web celebrity live streaming, cross-border e-commerce, WeChat live broadcast to achieve simultaneous and rapid online and offline development. Web celebrity live streaming sales has formed a whole chain service mode integrated by e-commerce sales, product testing and logistic and distribution. Despite of the impact of COVID-19 epidemic in 2020, online sales of pearls was increased. From January to September, the online sales of Zhuji pearls reached RMB 10.02 billion Yuan, increased by 25.27% from the same period last year.
Up to now, Zhuji has more than 2500 pearl enterprises of various kinds, including 1 listed company, 2 state-level key leading enterprises, and 13 enterprises above the designated size. A modern industrial cluster based on pearl commerce and trade, creative design of pearls, pearl bio-medicines, pearl culture and tourism has initially taken shape.
In recent years, CPC Zhuji Municipal Committee and Zhuji Municipal People's Government have thoroughly implemented the new concept of development. Based on building pearl characteristic town, the city has built the whole Shanxiahu into a beautiful international standard and domestic advanced fashion characteristic town through high-starting planning and high standard development according to the requirement of being international, fashionable and ecological and has upgraded pearl industry to a hundred billion-grade jewelry industry. In the construction of pearl fashion town, the city invested 5 billion Yuan to build high quality highlighted tourist projects, including Pearl Lake Park, Pearl Museum, Creative Pearl Workshop, Land Light Show, colorful Shanxiahu, and Ten Thousand Acres of Field Ponds. We have integrated such characteristic elements as pearls, lakes, farmlands, paddy fields and countryside, have synthesized, linked and used existing resources, including Miguoguo Town, Pearl City and Baita Lake Wetland Park, to build an all-time, all-region and all-industry tourism pattern featuring "Ten thousand acres of blooming peach blossoms in spring, extensive stretch of glaring maples in autumn, admiring glamour pearls in daytime and appreciating light show at night" and enhance the quality and standard of all-for-one tourism.
"World Pearl Congress is a high-level high-standard pageant for global pearl industry. Through a series of themed activities, it will comprehensively display the charming image of the capital of pearl and present an international feast of jewelry for all." Shanxiahu Pearl Town sincerely looks forward to working with global peers to explore the good solutions for the upgrading and transformation of the industry, continuously promote the communications and cooperation between the whole industrial chains so that global pearls shine more brilliantly.
About Hurun Inc.
Promoting Entrepreneurship Through Lists and Research
Oxford, Shanghai, Mumbai, Sydney, Paris
Established in the UK in 1999, Hurun is a research, media and investments group, widely regarded as an influential opinion-leader in the world of business on the back of generating 4 billion views on the Hurun brand last year.
Best-known today for the Hurun Rich List series, ranking the most successful entrepreneurs in China, India and the world, Hurun's other key properties include the Hurun Global Unicorn Index, the Hurun U30s, an awards recognizing the most successful entrepreneurs under the age of thirty, the Hurun 500, a ranking of the world's most valuable companies, the Hurun Philanthropy List and the Hurun Art List, ranking the world's most successful artists alive today.
Hurun provides research reports co-branded with some of the world's leading financial insitutions, real estate developers and regional governments.
Hurun hosted high-profile events in the last year across China and India, as well as London, Paris, New York, LA, Sydney, Luxembourg, Istanbul, Dubai and Singapore.
For further information, see www.hurun.net.