2022 Chinese High Net Worth Individuals' Value & Lifestyle Research Report
Hurun Research Institute, in association with Hakuhodo Institute of Life and Living Shanghai, today released the 2022 Chinese High Net Worth Individuals' Value & Lifestyle Research Report.
HURUN RESEARCH INSTITUTE, IN ASSOCIATION WITH HAKUHODO INSTITUTE OF LIFE AND LIVING SHANGHAI, TODAY RELEASED THE 2022 CHINESE HIGH NET WORTH INDIVIDUALS' VALUE & LIFESTYLE RESEARCH REPORT
OVER THE PAST 7 YEARS, SALARY INCOME HAS GROWN AS A PROPERTION OF CHINESE HNWIS' WEALTH, WHILST INVESTMENT INCOME IS SHRINKING
'SOCIAL STATUS' AND 'REPUTATION' GROWING IN IMPORTANCE FOR CHINESE HNWIS
EXPECTATION FOR EMOTIONAL LINK WITH 'SINCERITY' AND 'CONSIDERATION' ALSO GROWS
'BRANDS' OFFICIAL ONLINE STORES' MAIN INFORMATION CHANNEL FOR BRANDS FOR HNWIS. 2/3RDS OF THE GENERAL POPULATION USE SHORT VIDEO PLATFORMS AS THEIR MAIN INFORMATION CHANNEL ON BRANDS.
MORE THAN 50% OF RESPONDENTS BELIEVE THAT CHINESE BRANDS ARE 'COST-EFFECTIVE', AND 40% AGREE THAT CHINESE BRANDS ARE 'REASONABLY PRICED' AND 'HIGHLY-RECOMMENDED'
MALDIVES AND HAWAII MOST POPULAR OVERSEAS TRAVEL DESTINATIONS
21% OF CHINA HNWIS HAVE INTEGRATED 'SOCIAL CONTRIBUTION' INTO THEIR HOBBIES AND LIFESTYLES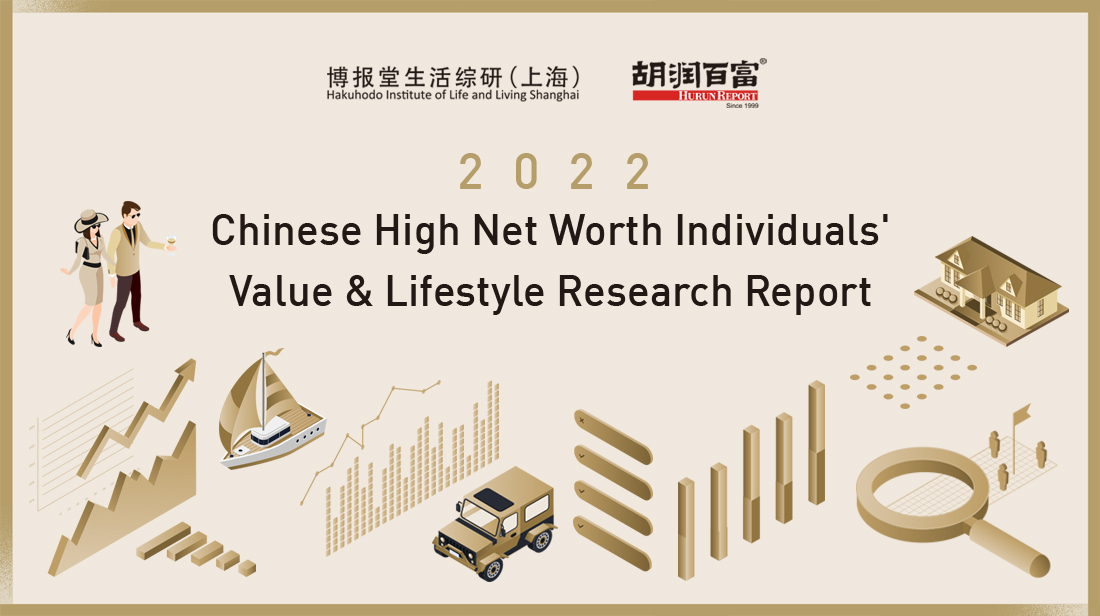 (2 June 2022, Shanghai) Hurun Research Institute, in association with Hakuhodo Institute of Life and Living Shanghai, today released the 2022 Chinese High Net Worth Individuals' Value & Lifestyle Research Report. This 93-page report was divided into eight parts: Overview of the China HNWI, Awareness and Behavior of HNWI, Consumption of HNWI, Travel of HNWI, Awareness of Social Contribution of HNWI, Consumption of HNWI by Product, Five Segments of HNWI, and Recommendations Based on Marketing Insights.
Zhong Ming, Managing Director and Chief Researcher of Hakuhodo Institute of Life and Living Shanghai, said: 'Hakuhodo Institute of Life and Living Shanghai, a wholly owned subsidiary of Hakuhodo Inc., one of the world's top 10 integrated marketing solutions companies founded in 1895, with over 150 offices and over 10,000 experts in more than 20 countries and regions. As the core of the Hakuhodo DY Holdings, Hakuhodo is ranked as the 3rd largest advertising agency in the world by Advertising Age's 'Agency Report 2021'. Serving as the think-tank of Hakuhodo in China, Hakuhodo Institute of Life and Living Shanghai adheres to the corporate philosophy of Sei-katsu-sha (Sei-katsu-sha literally means 'living person' and has accumulated many years of research results in various segments of the population and various innovative consumption fields. During the HNWI study process, Hakuhodo Institute of Life and Living Shanghai based its own experience in the research of 'seeing people as holistic individuals each with their own lives' and exploring their essential desires. While in collaboration with Hurun Research Institute, the rich experience and resources in the field of HNWI research in China were also used to achieve this joint research results.'
Rupert Hoogewerf, Hurun Report Chairman and Chief Researcher, said: 'We are delighted to partner with the Hakuhodo Institute of Life and Living Shanghai to compile the Chinese HNWIs' Value & Lifestyle Research Report 2022. This 93p report highlights the attitudes and consumption needs of the contemporary HNWI population. Entrepreneurs from new industries and the accelerated rise of the second generation mean that fresh blood continues to join the ranks of HNWIs. The composition, life attitudes, and values of HNWIs have witnessed a series of changes. Thus, brands and service providers that match their consumption behavior, habits, and attitudes are inevitably in need of upgrading.'
'Total Household Assets' is a good indication of 'confidence' while 'investable assets' is a good indicator of overall 'economic strength'. The number of 'affluent households', ie China households with in total assets has reached 5.01 million households by the end of 2020, of which 1.8 million households have CNY¥6mn of 'investable assets', according to Hurun Research. 80% of these households are in Mainland China. The current study found that HNWIs have higher self-perceived overall satisfaction and financial affluence than the general population; at the same time, the level of stress is also higher. HNWIs seek higher emotional needs for explicit factors such as 'status', 'reputation', and 'sincerity and consideration', and lower materialistic needs for 'money' and 'luck'. HNWIs have a stronger sense of social contribution and will take practical action, mainly through donations and volunteer activities.'
'Over the past 20 years, Hurun Research has grown to become the world's leading researcher into the trends of China's HNWIs. These include the Hurun Wealth Report, which tracks the distribution of the affluent population, Hurun China Luxury Consumer Survey, which aims to reveal the changes and preferences of the lifestyle, consumption habits and brand perceptions of China's HNWI population, and the Hurun Luxury Consumer Price Index, which measures the price level of consumer goods purchased by UHNWIs in China. We expect Chinese HNWI Value & Lifestyle Research Report 2022 to show the changing curve of the HNWI population, providing forward-looking insights for readers, relevant brands, and their marketers.'
Main Contents
1. Investment income has been the main component of HNWI wealth for many years, but since 2018, the proportion of investment income in HNWI assets has shown a downward trend. At the same time, 'salary' has steadily increased, playing an important role in the income of HNWI.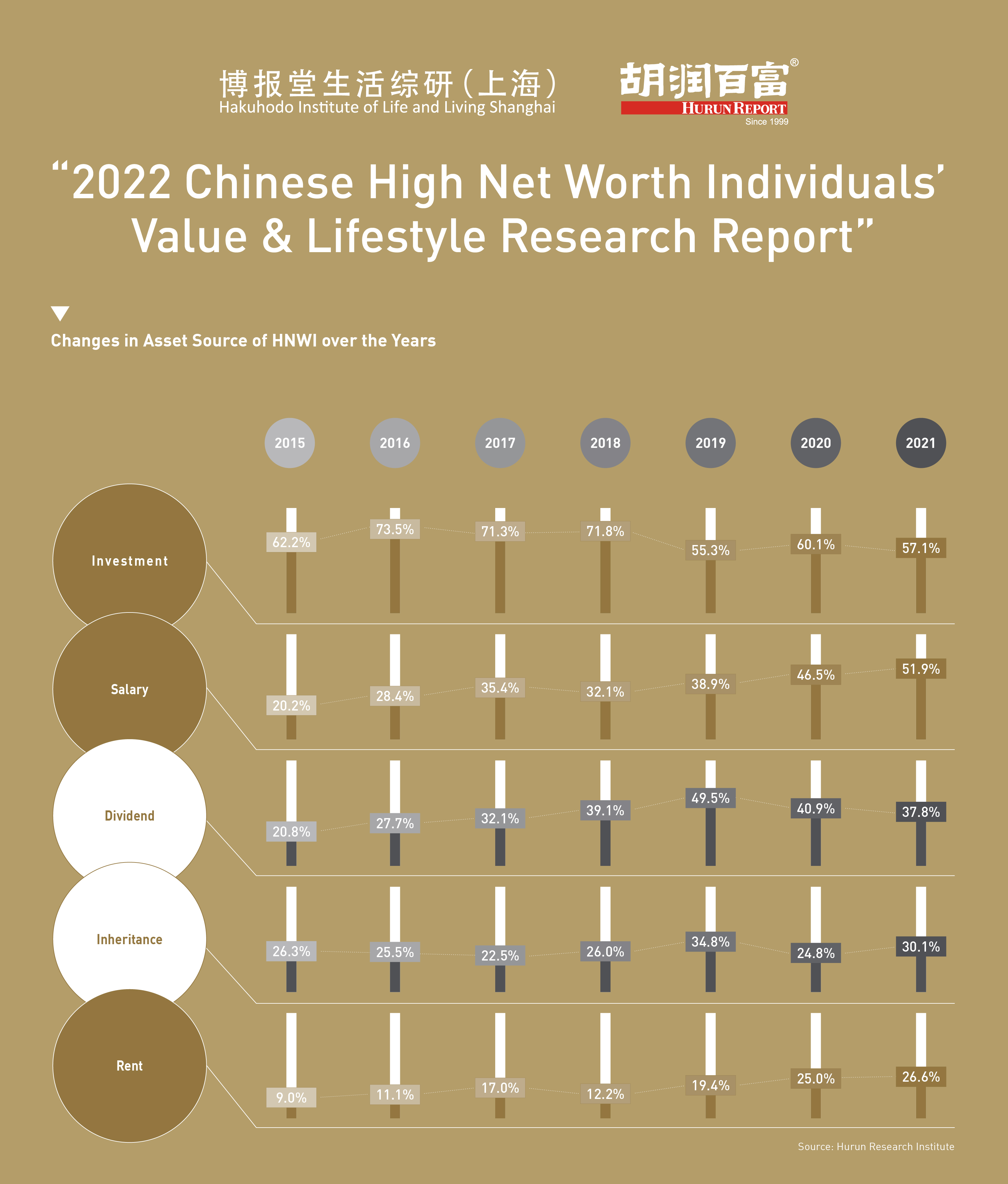 2. Whether it is general population or HNWI, 'health', 'happiness' and 'stable life' are the common 'Desired Things' of everyone. Compared with the general population, HNWIs pay more attention to external social factors like 'social status', 'reputation', etc. Meanwhile, they are more desirous of emotions like 'sincerity and consideration'.
3. As for consumption philosophy, HNWIs 'almost always buy brand-new products while shopping' (80.8%), 'often choose products with the best quality, function, and class while shopping' (74.2%), and 'want to have products that no one else has' (72%). Qualitative research found that some HNWIs have less attention and consumption desire to traditional luxury brands due to various reasons (such as showing humility, not needing luxury goods to highlight their own value, etc.), and the trend of personalized and diversified consumption views gradually appear.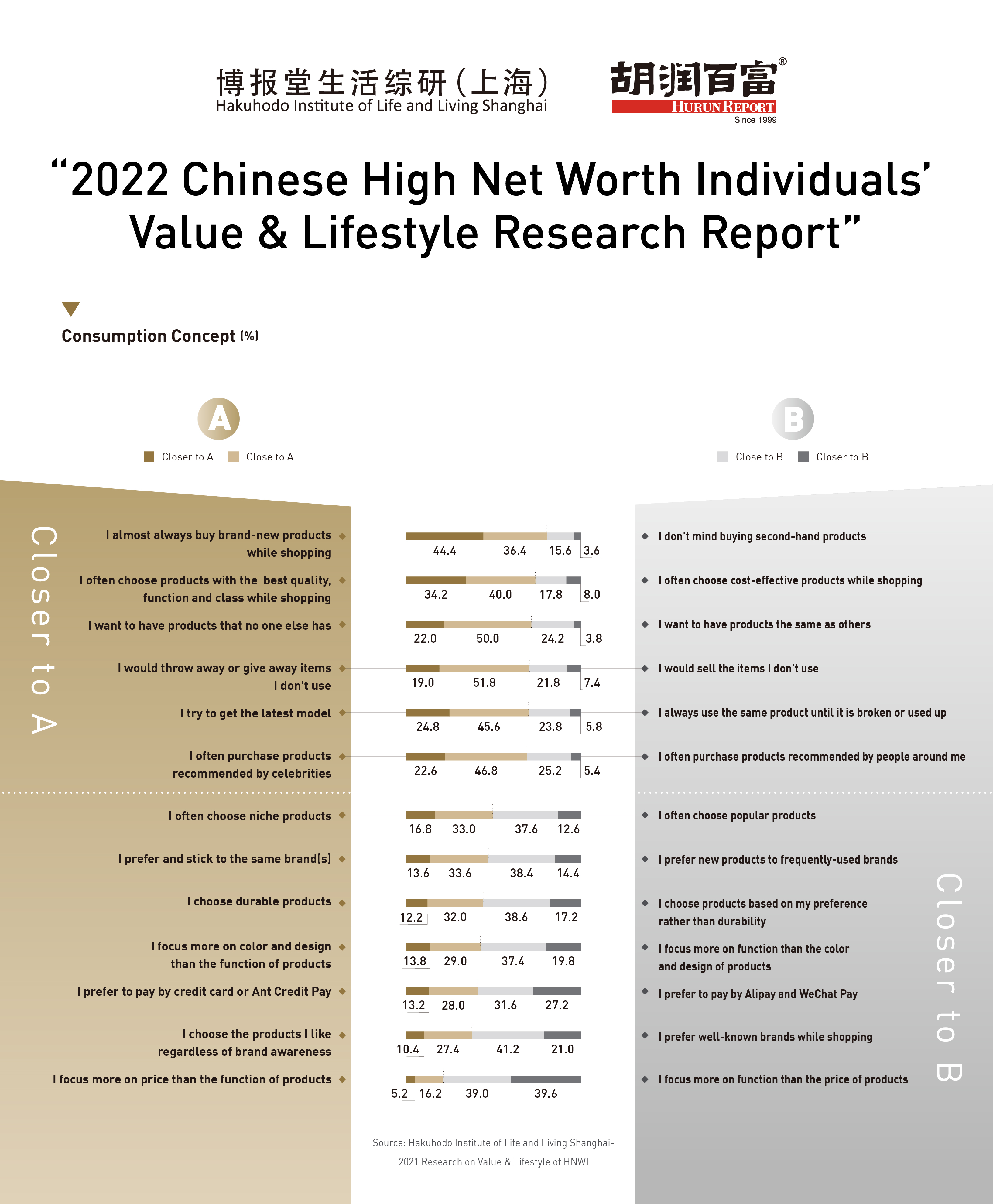 4. There are also slight differences between HNWIs and the general population in the information channels. Relatively, HNWIs prefer official information channels, such as 'brands' official online stores' (47.1%), 'brands' official SNS accounts' (43%), etc.; while nearly two-thirds of the general population prefer 'short video platforms ' as the main information channel.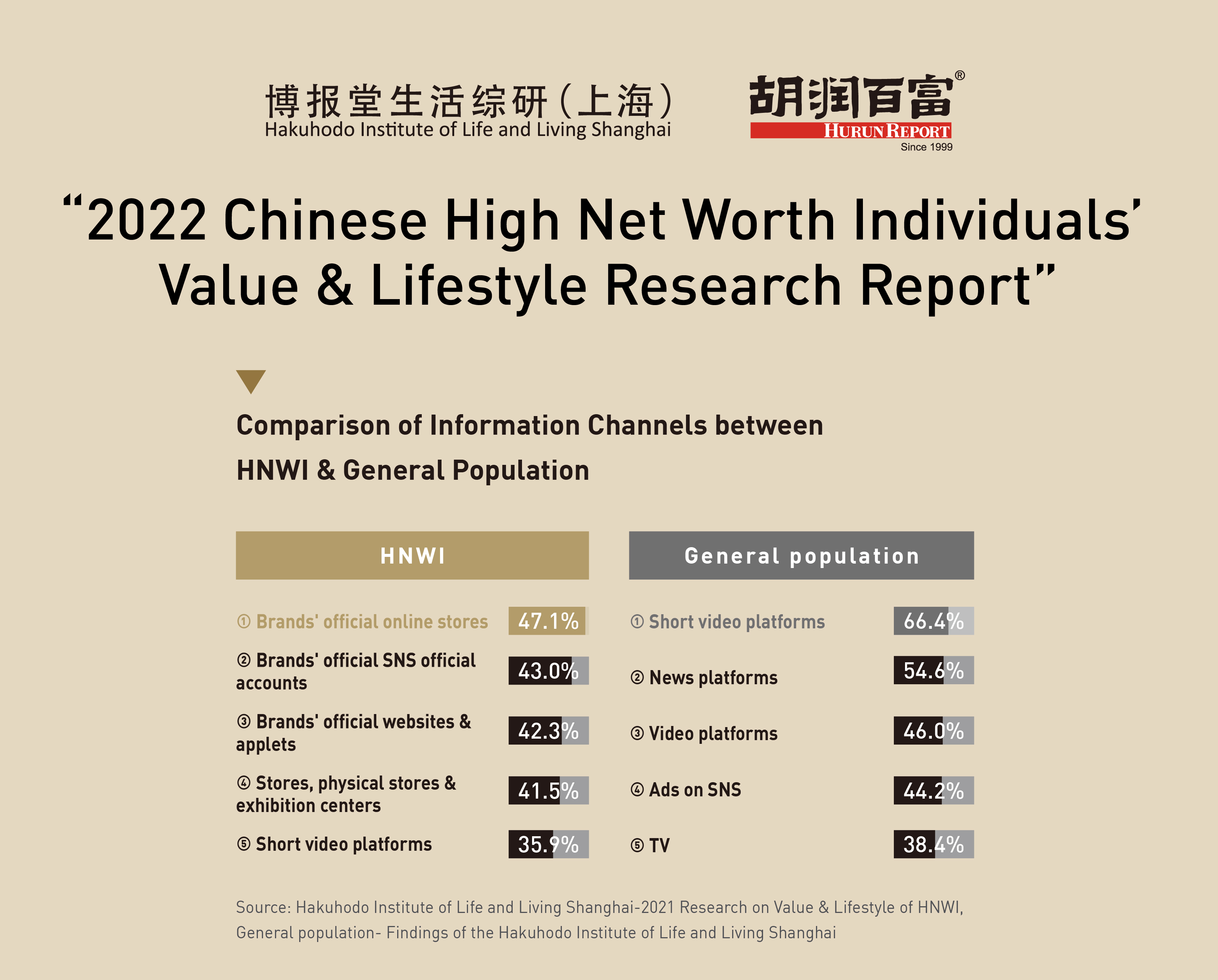 5. In terms of product impressions from China, Japan, South Korea and Germany, more than 50% of the respondents believe that Chinese brands have 'cost-effective', and about 40% agree that Chinese brands are 'reasonably priced' and 'highly-recommended'; German and Japanese brands have the support of more than 40% of the respondents for their own 'technologically advanced'; 40.8% of the HNWIs think of Korean brands as 'characteristic'.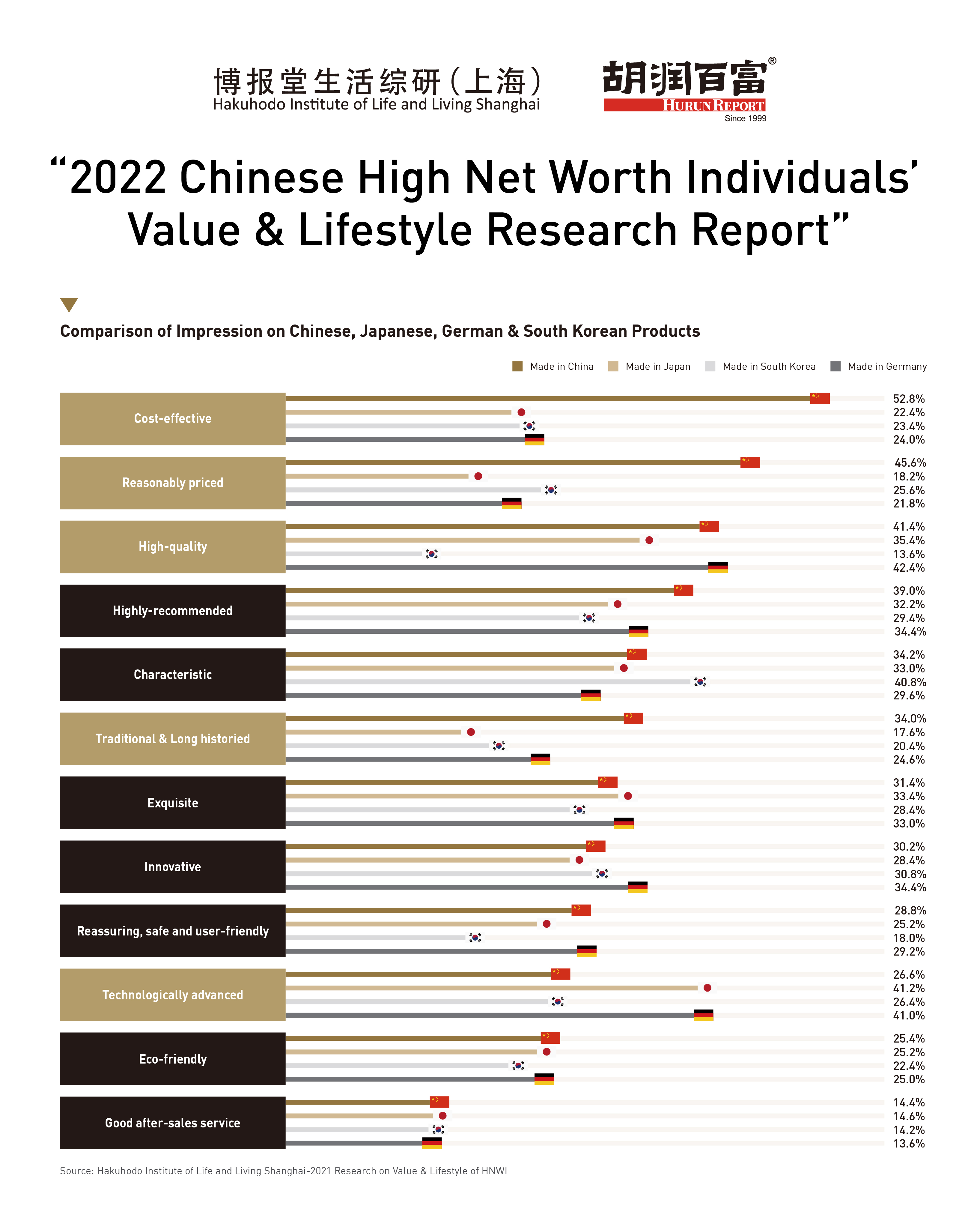 6. Despite the impact of the pandemic, 77.8% of the respondents are still looking forward to overseas travel after the pandemic is over; Maldives and Hawaii are selected as the most popular overseas travel destinations.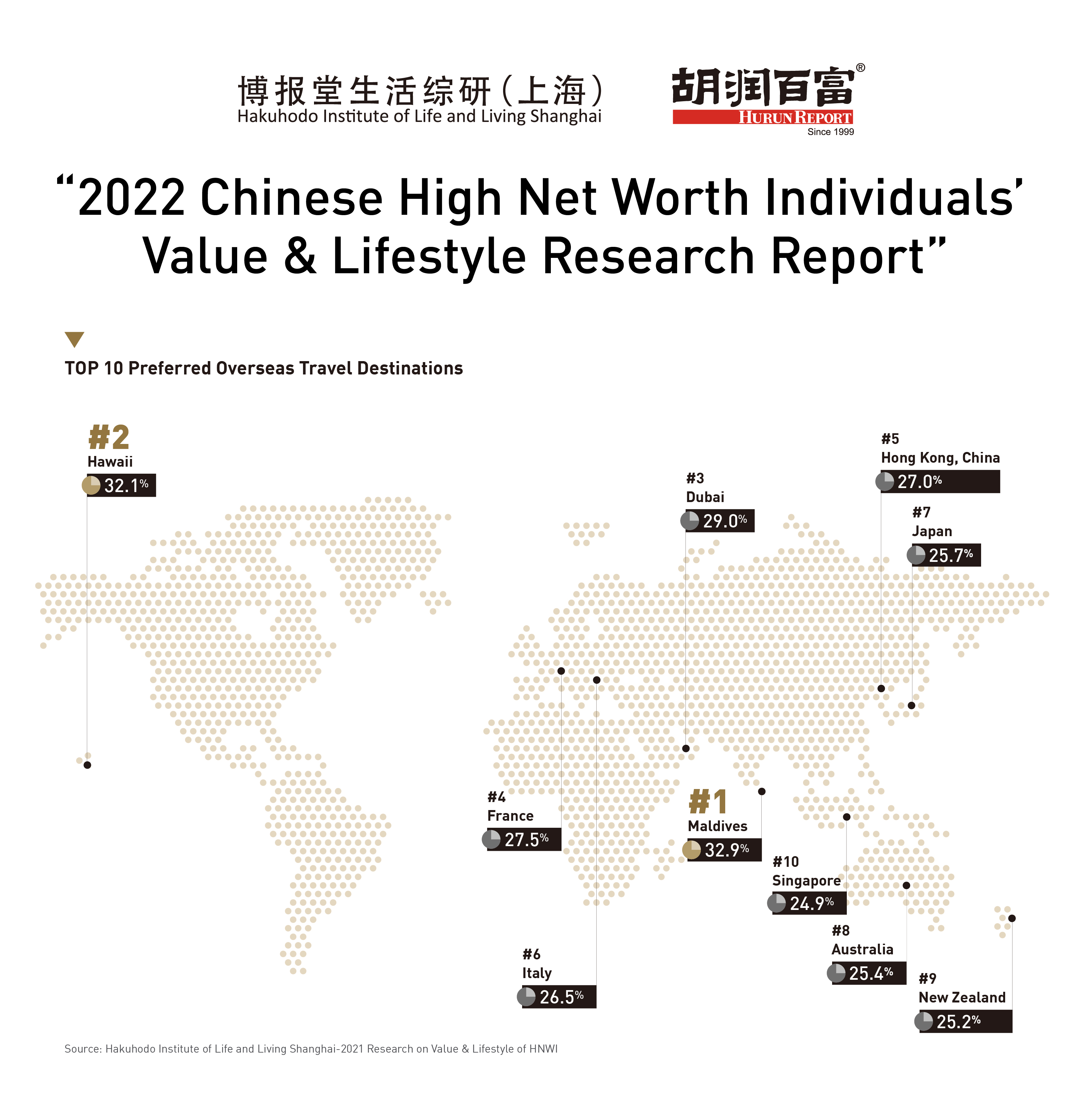 7. Chinese HNWI is passionate about social contribution. 21% of them regard 'social contribution' as a hobby. Among HNWI's actual actions in social contribution 'donate money to disaster-affected areas' and 'donate & invest in poverty-stricken areas' accounts for 57.2% and 49.2% respectively. The percentage of 'participate in volunteer activities' is up to 38.6%. HNWIs are not only more aware of social contribution, but also take in actions.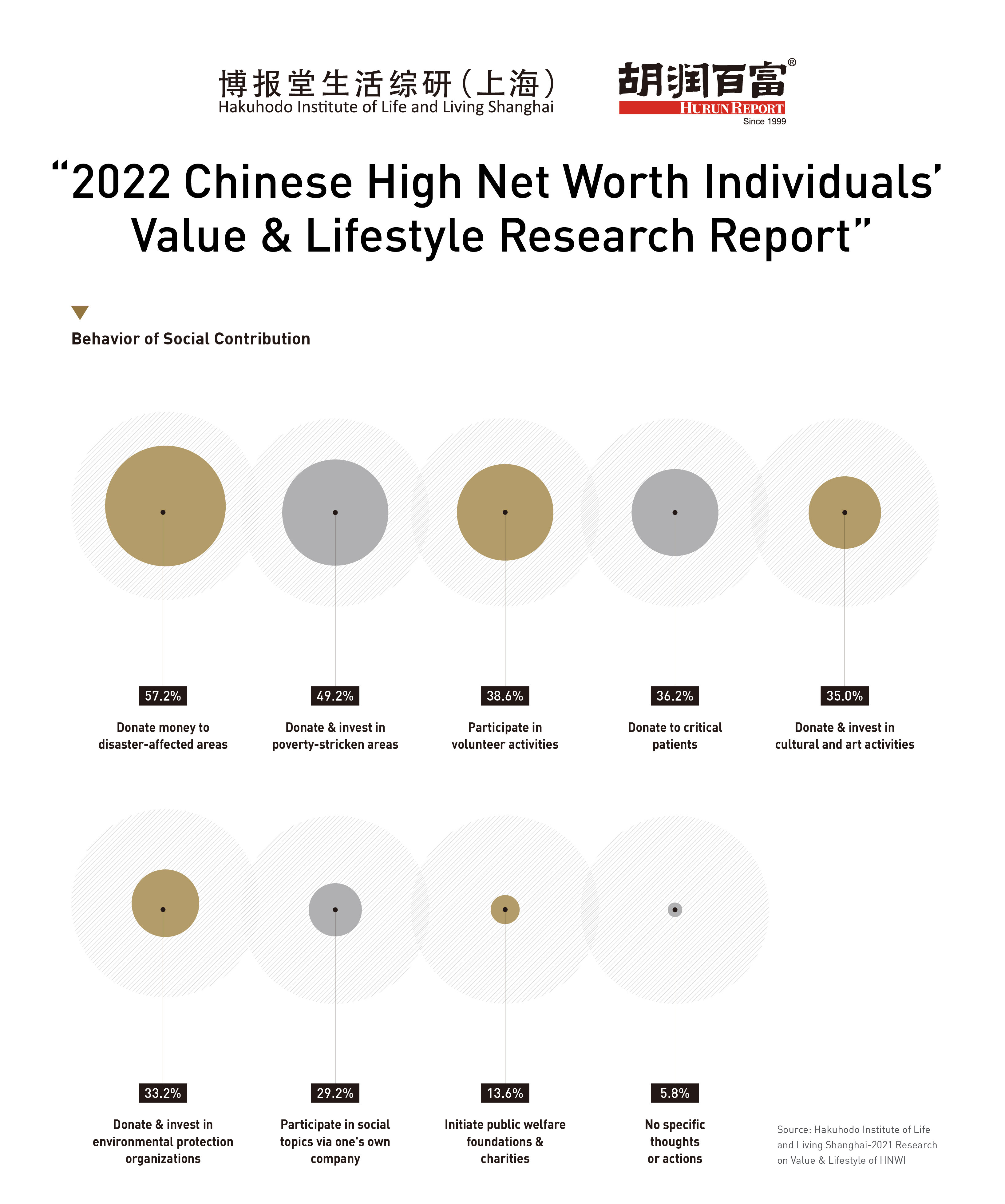 8. In order to deeply understand the differences of HNWIs, we divided HNWIs into the following five categories to display the characteristics, value orientation, life concept and consumption behavior of each group in detail.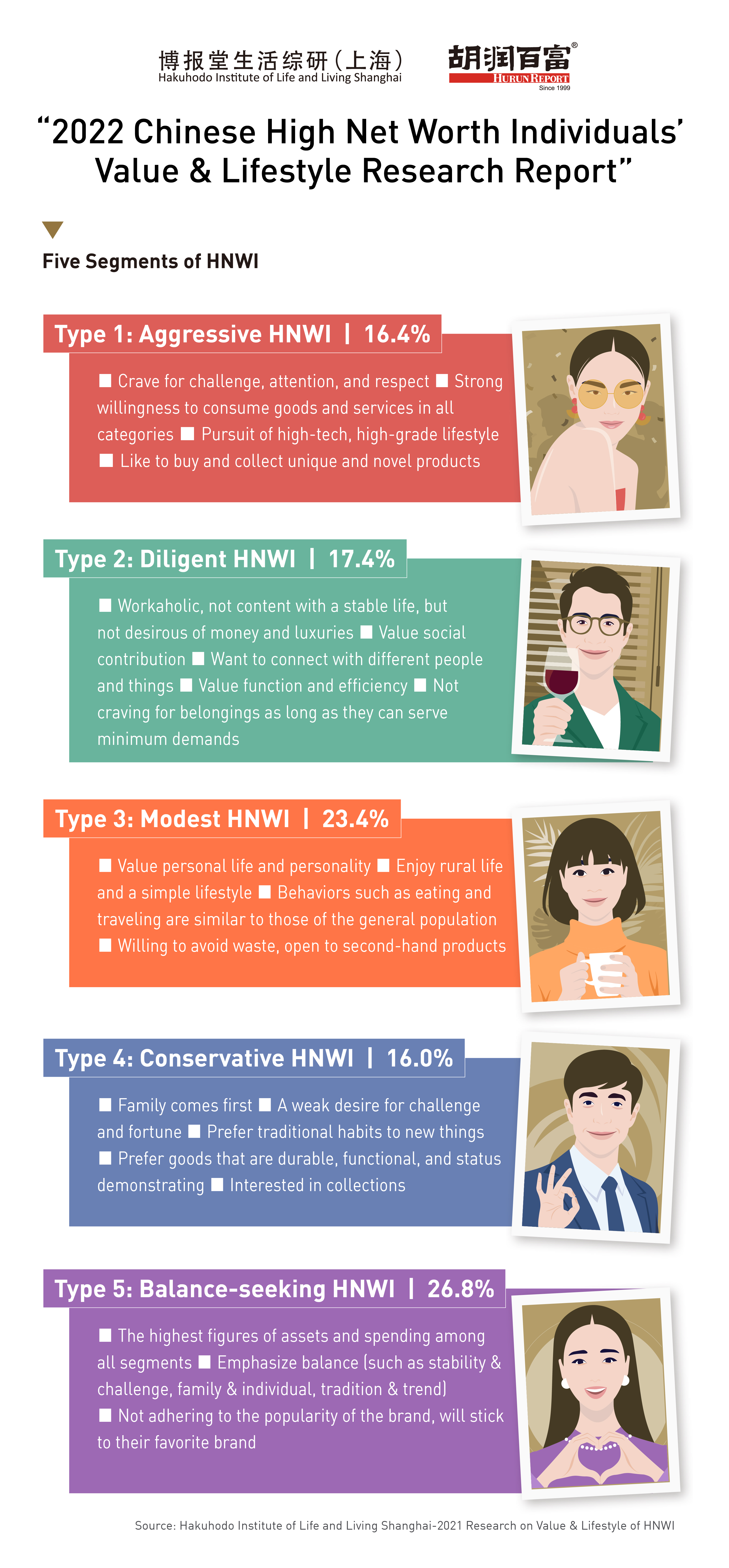 Methodology
The research results of the 2022 Chinese High Net Worth Individuals' Value & Lifestyle Research Report are derived from the Hurun Research Institute and Hakuhodo Institute of Life and Living Shanghai Co, Ltd. We collected the survey results of 500 HNWIs from tier 1 to tier 3 cities in Mainland China in the form of online questionnaires, with a male to female ratio of 1:1, covering different age groups ranging from 20 to 59 years old. In the qualitative research part, 10 HNWIs with investible assets of more than CNY¥6mn (5 of them with investible assets of more than CNY¥10mn) were interviewed face-to-face and via video, covering Beijing, Shanghai, Shenzhen, Chengdu, Wuhan and Nanchang.
About the Hakuhodo Institute of Life and Living Shanghai
Hakuhodo Institute of Life and Living Shanghai Co., Ltd. is the flagship think-tank of Hakuhodo DY in China, which has been engrossed in the 'Sei-katsu-sha Study' since 2012. Relying on the practice and promotion of 'Sei-katsu-sha Insight' in China, we play a vital role in improving the service quality of all affiliates of Hakuhodo DY.
One of the goals of Hakuhodo Institute of Life and Living Shanghai Co., Ltd., is to effectively utilize the experience of 'Seikatsu-sha Insight' accumulated over the years to bring more possibilities to the future of the living person while making contribution to the development of society.
The company's current business consist of: 'Sei-katsu-sha Study' which is based on the philosophy of 'Sei-katsu-sha Insight' to provide insight into the essence of life of 'Sei-katsu-sha' and propose new lifestyles; 'Marketing Tools Development' to support the marketing activities of companies in various sectors; and 'consulting services' to provide our clients with branding and marketing solutions.
All research results will be published through news conferences, corporate homepage, and publications. Meanwhile, we will also provide support and services to a wide range of companies for their business in China through close cooperation with all group companies of the Hakuhodo DY.
Homepage: http://www.shenghuozhe.cn
WeChat official account: HAKUHODO_SHZY
For further information on the purchase of the full report, please contact:
Email: news@hakuhodo-shzy.cn
About Hurun Inc.
Promoting Entrepreneurship Through Lists and Research
Oxford, Shanghai, Mumbai, Sydney
Established in the UK in 1999, Hurun is a research, media and investments group, promoting entrepreneurship through its lists and research. Widely regarded as an opinion-leader in the world of business, Hurun generated 8 billion views on the Hurun brand last year, mainly in China and India.
Best-known today for the Hurun Rich List series, telling the stories of the world's successful entrepreneurs in China, India and the world, Hurun's two other key series include the Hurun Start-up series and the Hurun 500 series, a ranking of the world's most valuable companies.
The Hurun Start-up series begins with the Hurun U30s, an awards recognizing the most successful entrepreneurs under the age of thirty, and is today in seven countries. Next up are Hurun Cheetahs, Chinese and Indian start-ups with a valuation of between US$300mn to US$500mn, most likely to go unicorn with five years. Hurun Global Gazelles recognize start-ups with a valuation of US$500mn to US$1bn, most likely to go unicorn within three years. The culmination of the start-up series is the Hurun Global Unicorn Index.
Other lists include the Hurun Philanthropy List, ranking the biggest philanthropists, the Hurun Art List, ranking the world's most successful artists alive today, etc…
Hurun provides research reports co-branded with some of the world's leading financial insitutions, real estate developers and regional governments.
Hurun hosted high-profile events in the last couple of years across China and India, as well as London, Paris, New York, LA, Sydney, Luxembourg, Istanbul, Dubai and Singapore.
For further information, see www.hurun.net.
For media inquiries, please contact:
Hurun Report
Porsha Pan
Tel: +86-21-50105808*601
Mobile: +86-139 1838 7446
Email: porsha.pan@hurun.net
Grace Liu
Tel: +86-21-50105808
Mobile: +86 136 7195 4611
Email: grace.liu@hurun.net