SICA·Hurun Global Art List 2021 – In Search of the World's Most Successful Living Artists
British artist David Hockney, 84, topped the Hurun Global Art List for the second year in a row with sales of his works at public auction last year amounting to US$132mn
Chinese painter Cui Ruzhuo, 77, shot up 8 places to 2nd with sales of his works more than doubling to US$113mn
German artist Gerhard Richter, 89, ranked 3rd with US$102mn, down one place
The US led with 15 artists, the same number as last year, followed by China with 12, one more than last year. Third was the UK with 7 artists. Between them, the 'Big Three' countries accounted for 68% of the list.
UK-based Banksy, 47, was 6th with US$64mn, up 12 places from last year
7 female artists, led by Japanese artist Yayoi Kusama, 92, at 5th with US$66mn, up two places
Beijing-based Zeng Fanzhi, 57, broke into the Top 10 with US$39mn, up 24 places
Total sales of the works of the Top 50 artists from Hurun Global List came to US$1.4bn, a drop of 24% from last year
3 artists broke through the US$100mn sales mark, 3 less than last year
Of the 12 new faces, 4 were from China and 3 from the United States
The average age was 68 years old, the same as last year. 10 artists were 50 years or under, 3 more than last year
Leading Authority on Global Wealth releases Hurun Global Art List in association with Shanghai art auction house SICA.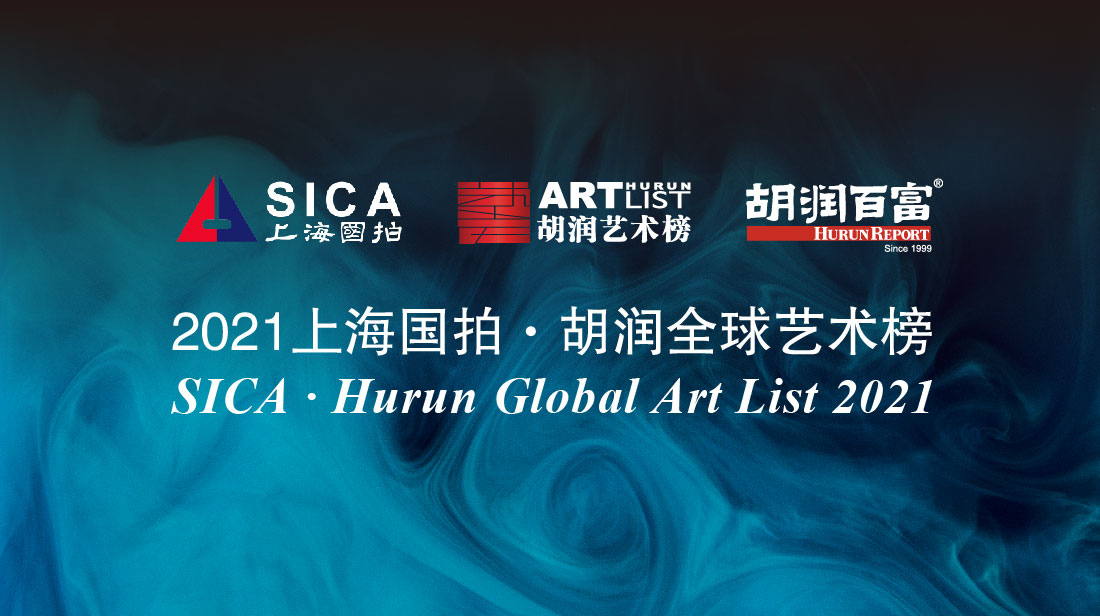 (29 November 2021, Shanghai) The Hurun Research Institute today launched the SICA·Hurun Global Art List 2021, a ranking of the Top 50 artists in the world alive today based on the sales of their works at public auction in the year ending 31 December 2020. This is the second year of the Hurun Global Art List.
Artprice.com, a leading art market information platform, provided the art auction data for non-China artists, whilst China data was from CAFA National Institute of Art and Cultural Policy.
For analysis purpose, the Hurun China Art List and Hurun India Art List are included in the appendix.
Hurun Chairman and Chief Researcher Rupert Hoogewerf said, "Following on from the release of the Hurun Most Successful Chinese Living Artists for the last 14 years, I am delighted to bring out the second edition of the Hurun Global Art List. This list is intended to be a benchmark for potential collectors, be they individuals, especially those from the Hurun China Rich List and Hurun Global Rich List, or corporates, especially those from the Hurun China 500 and Hurun Global 500 most valuable companies."
"Covid has had a big impact on the art market, with the works of the Hurun Top 50 living global artists only selling US$1.4bn at public auction last year, down 24%. However, this does not necessarily mean that the value of art works decreased, it may be because good works were not put up for auction by collectors last year."
"It takes time for an artist to gain recognition from collectors on the secondary market. The average age of the artists on our list is 68. From this we can see they were born on average in 1953 and started attracting the attention of senior art collectors in the mid-nineties."
"In terms of countries, the USA still led with the most number of artists, followed by China, UK, Japan and Germany. Curiously, traditional art powerhouses like France had only 1 artist on the list, while Italy had none. One reason perhaps is that the world's leading art auction houses are based in New York, London, Hong Kong and Beijing."
"For the first time, there are 2 Chinese artists that made the Top 10, with Cui Ruzhuo breaking into the Top 2 for the first time. 12 Chinese artists made the Top 50, 1 more than last year, including 4 new faces. The achievements of Chinese contemporary artists in the secondary market cannot be separated from the development of Chinese economy and the strong community of Chinese collectors. Influenced by China's profound cultural tradition, Chinese contemporary artists have experienced social changes, the development of globalization, and frequent international exchanges."
Since its establishment in 1988, SICA has been leading the development of China's auction industry in its auction practice. So far, SICA has accumulated more than one million high-quality customer groups, and it is the leading enterprise of domestic comprehensive auction houses. In recent years, Shanghai has actively implemented the differentiated development strategy around the direction of innovation and transformation of internationalization, platformization, and specialization. Taking Shanghai's efforts to promote the construction of an international cultural metropolis as a historical opportunity, relying on the brand, technology, traffic and other aspects Advantages, to build an art complex on the Bund, efficiently connect art creation and market demand, and is committed to promoting the innovative development of Shanghai's cultural and creative industries, reflecting the cultural height that Shanghai should have.
Dai Peihua, chairman of SICA, said, "The key to building Shanghai into one of the world's capitals for art is to enhance Shanghai's voice in the international art auction market. We at SICA have sought to lead the trend of global art development through research and the development of art indices, white papers and other measures. We are delighted to be working with leading research house Hurun Report to put out the second edition of the Global Art List."
This is a brief English language summary of the full Chinese press release which can be found at www.hurun.net. For media inquiries please contact our public relations team whose contact details can be found at the end of this report.
Table: SICA·Hurun Global Art List 2021 – Top 10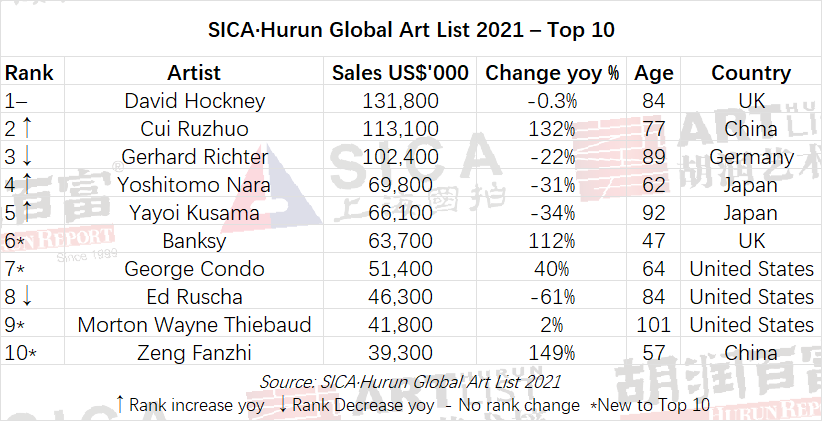 British artist David Hockney, 84, topped the list for the second year in a row with sales of his works at public auction last year totaling US$131.8mn. A total of 511 Hockney works were sold last year, the most expensive of which was his Nichols Canyon (1980), which sold for US$41mn at Phillips in New York. Hockney lives in Yorkshire, London and California.
Beijing-based Chinese painter Cui Ruzhuo, 77, shot up to 2nd, up eight places, with sales of his works more than doubling to US$113.1mn. Cui Ruzhuo's Landscape (2017) was sold by Yongle auction for US$27.5mn.
German artist Gerhard Richter, 89, ranked 3rd with US$102.4mn, down one place from last year. A total of 285 works by Richter were sold last year, and his abstract painting Abstraktes Bild sold for US$28mn at Sotheby's Hong Kong. His works vary in style, including romanticism, photorealism, abstract expressionism, minimalism and pop art.
Japanese artist Yoshitomo Nara, 62, ranked 4th with US$70mn, up two places from last year. A total of 391 works by Nara were sold last year, including his Hothouse Doll (in the white room - III) (1995), which sold for nearly US$13mn.
Japanese artist Yayoi Kusama, 92, ranked 5th with US$66mn, up two places from last year. Yayoi Kusama is the only female artist in the Top 10. Last year 713 of her works were sold. Yayoi Kusama is known as the Queen of Dots.
Banksy, a 47-year-old British street artist, ranked 6th with US$64mn, up 12 places from last year. He is the youngest artist in the Top 10. 966 works were sold last year, including his mock-satire Show Me The Monet, which sold for more than US$10mn at Sotheby's in London. Banksy is known for his satirical and playful art style, and his works can be found in streets around the world, often attracting people to stop and look at them.
American surrealist Artist George Condo, 64, was 7th with US$51mn, up seven places from last year. A total of 126 Condo works were sold last year. The most expensive work was Force Field, which sold for US$7mn at Christie's in Hong Kong. Condo's signature style is "mutant surrealism," often featuring extruded cartoon faces and some improvisational exaggerated cubism.
American pop artist Ed Ruscha, 84, ranked 8th with US$46mn, down five places from last year. Among 136 works sold last year, the most expensive was Annie, which sold for US$23mn at Christie's in New York. Annie is an early work by Ruscha. It is nearly six feet high, and such a large piece is an early example of the artist's iconic style.
American pop artist Morton Wayne Thiebaud, 101, ranked 9th with US$42mn, up four places from last year. Last year, 75 of his works sold, the most expensive of which was Four Pinball Machines, sold for US$19mn at Christie's in New York. His work has a strong pop art style, including thick Outlines and complete descriptions of objects.
Zeng Fanzhi, a 57-year-old Chinese painter, ranked 10th with US$39mn, up 24 places from last year. Mask series 1996 No.6 was sold by Yongle auction for US$23mn last year.
Table: World's Top Living Artists by Country
The Hurun Top 50 came from 14 countries, with Ghana, Latvia and Switzerland making the list for the first time.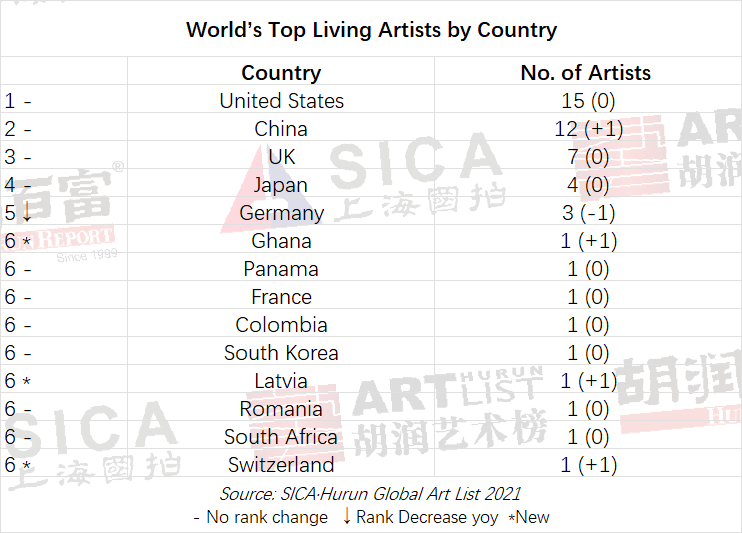 Table: Chinese artists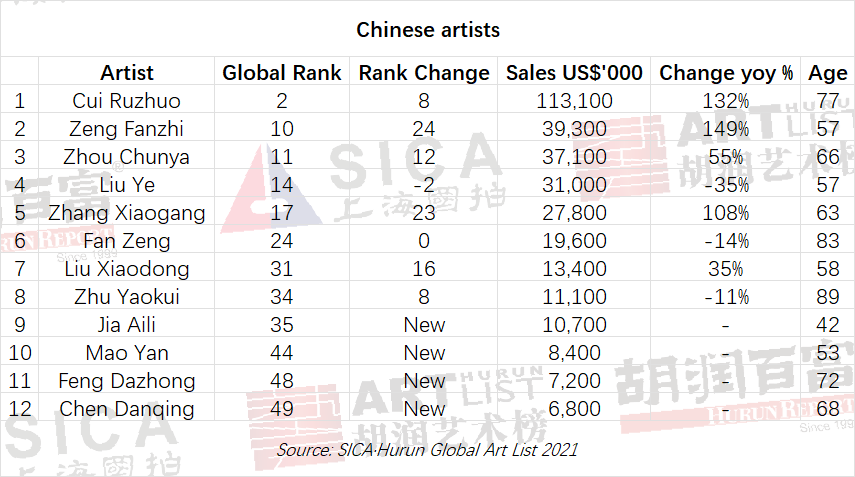 Table: Female artists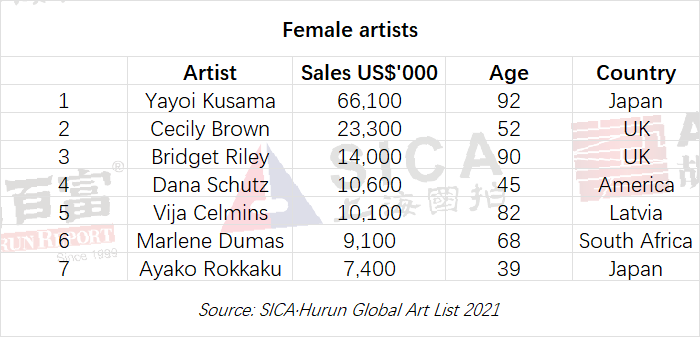 Table: Youngest artists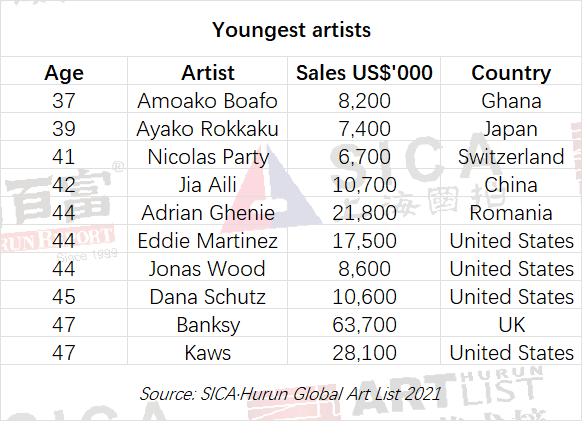 Table: Most Expensive Artwork sold at auction by living artists in the past year
Table: Artists Growing Fastest at Public Auction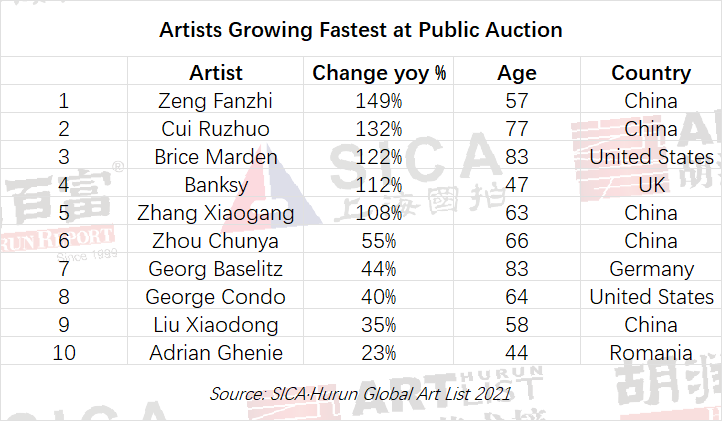 Top 5 artists on the list with the most works sold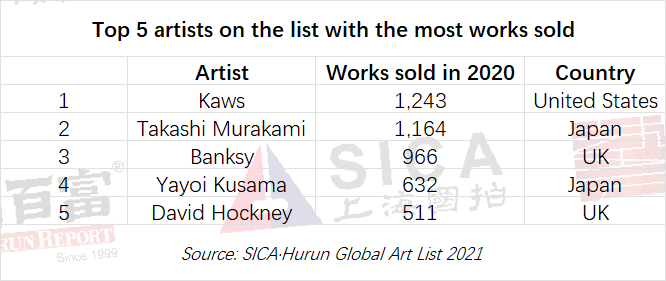 Top 5 artists on the list with the least works sold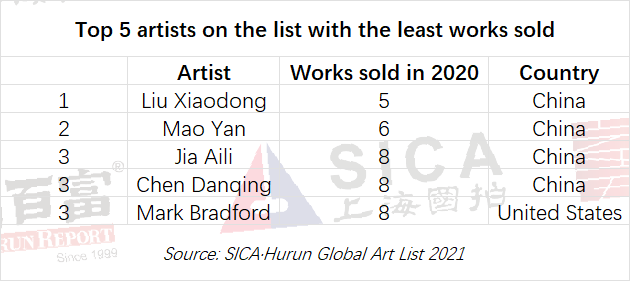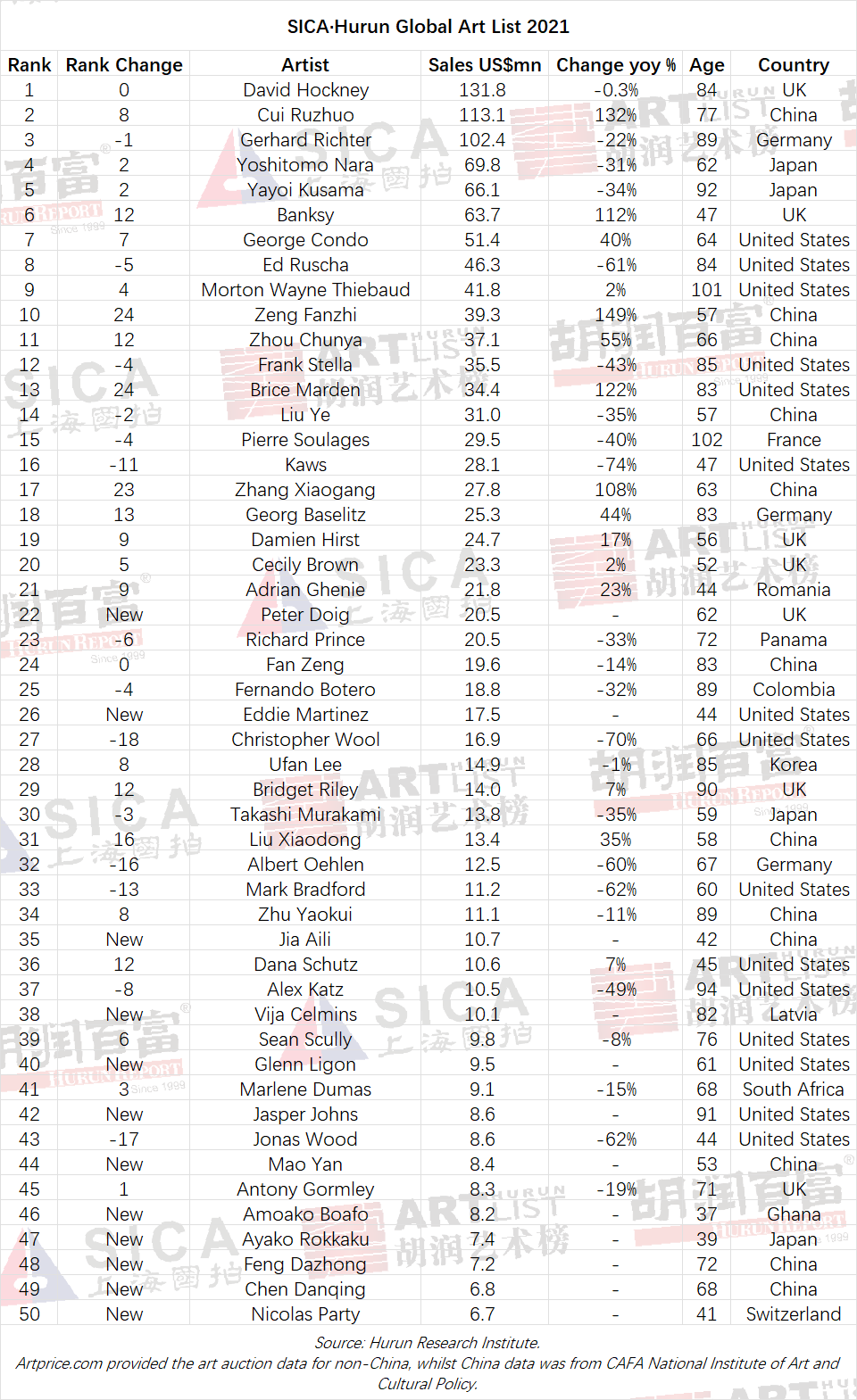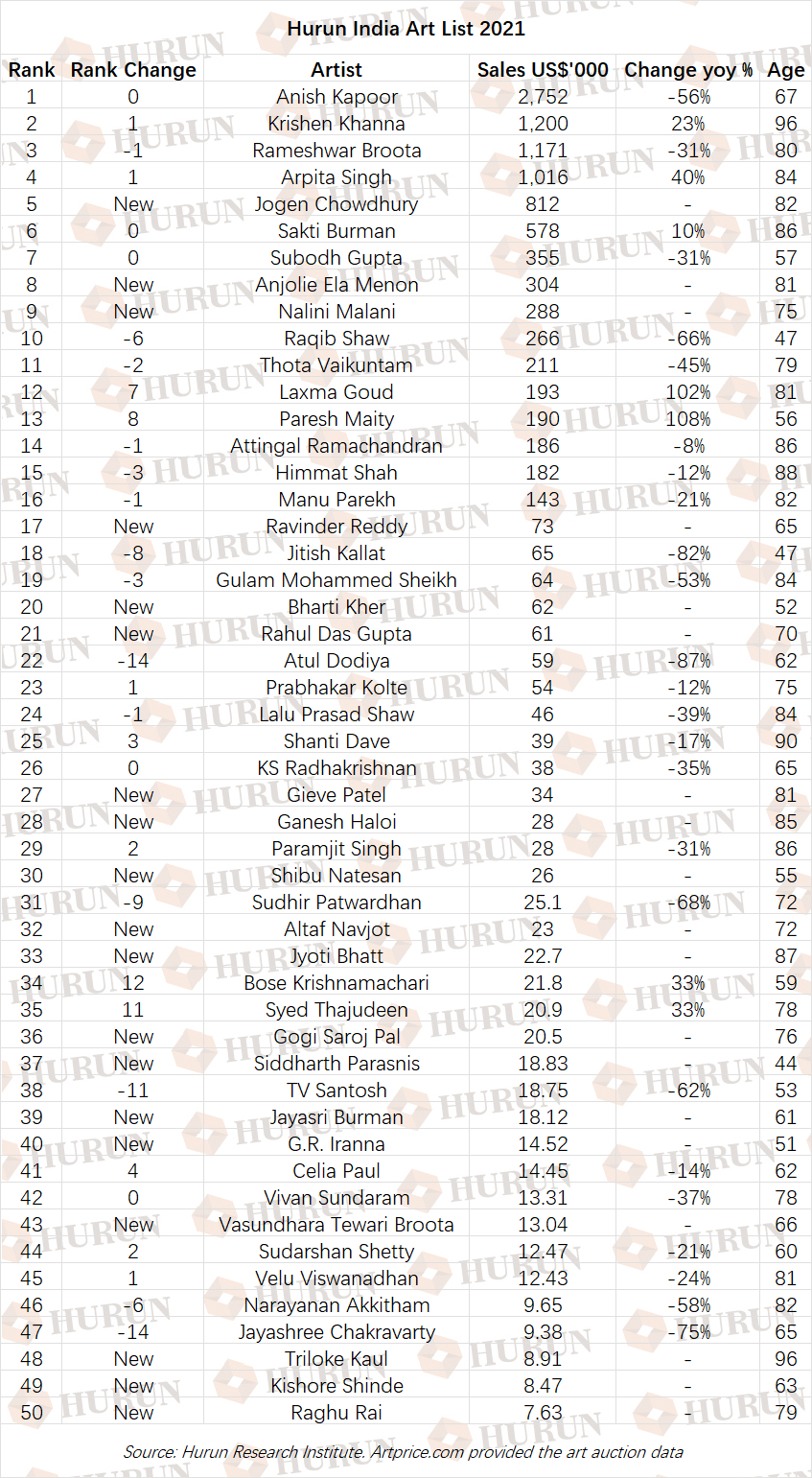 About SICA
Shanghai International Commodity Auction Co., Ltd (SICA) is a comprehensive auction company authorized by Shanghai Municipal People's Government and the former National Internal Trading Ministry. It is the Vice President Company of China Association of Auctioneers, "AAA" grade auction enterprise in China auction industry and "5A" grade credit enterprise in Shanghai auction industry.
SICA is a professional auction agency providing the disposal of assets, assets realization, relevant assets management and consultation service. Recognized as the leading company in Chinese auction industry, SICA is one of the comprehensive auction companies featured with the most diversified products, the strongest marketing capability and the broadest lines of business including real estates, vehicles, supplies, equipment, cultural relics, artworks, collections and intangible assets, etc. It is the asset disposal platform for lots of financial institutions and state-owned groups, as well as the CIIE "6 days+365 days" perennial display trading platform. It is also a "Shanghai Brand" certified company, and was once elected to be a China Well-known trademark and Shanghai Famous Trademark.
It has been 32 years since SICA was established in 1988. As one of the oldest auction companies in China, SICA has always been at the forefront among all the comprehensive auction companies in China and has created lots of classic cases in Chinese auction industry these years.
SICA is equipped with a complete corporate governance structure and a strict internal control system. It is also the first company getting through the certification of ISO9001 and ISO27001 in this industry. SICA has become the designated agency for Shanghai monthly uncommercial vehicle quota auction since 1994. With the auction system invented by ourselves, millions of people have already joined in our online auction. This effective auction system has formed into several online auction platforms, including web version, Wechat, etc. The Wechat official account of SICA has millions of followers now, and SICA APP is also in official operation, which provides powerful technical support for our business transformation. At present, 98 percent of our auction has been moved into online platform.
With more and more new market focuses coming to the fore, SICA is now seizing the opportunity, promoting the internationalization, platformization and professionalization actively , to construct a high-quality interaction platform for auction items and resources during the collision of Chinese and Western cultures. SICA also focuses on helping the construction of "Five Centers" and the "Belt and Road Initiative", and strives to be a Century Brand in domestic auction industry.
About Hurun Inc.
Promoting Entrepreneurship Through Lists and Research
Oxford, Shanghai, Mumbai, Sydney
Established in the UK in 1999, Hurun is a research, media and investments group, which generated 8 billion views on the Hurun brand in 2020, up 50% year on year, on the back of providing lists and research reports.
Best-known today for the Hurun Rich List series, ranking the most successful entrepreneurs in China, India and the world, Hurun's other key properties include the Hurun 500, a ranking of the world's most valuable companies, and the Hurun Unicorn Index, a comprehensive listing of the world's start-ups worth US$1bn or more.
Hurun provides research reports co-branded with some of the world's leading financial institutions, real estate developers and regional governments.
Hurun hosted high-profile events in the last two years across China and India, as well as London, Paris, New York, LA, Toronto, Vancouver, Sydney, Luxembourg, Istanbul, Dubai and Singapore.
For further information, see www.hurun.net.
For media inquiries, please contact:
Hurun Report
Porsha Pan
Tel: +86-21-50105808
Mobile: +86 139 1838 7446
Email: porsha.pan@hurun.net
Grace Liu
Tel: +86-21-50105808
Mobile: +86 136 7195 4611
Email: grace.liu@hurun.net