The Hurun Research Institute releases Hurun China Rich List 2021, in association with premium baijiu brand Hengchang Shaofang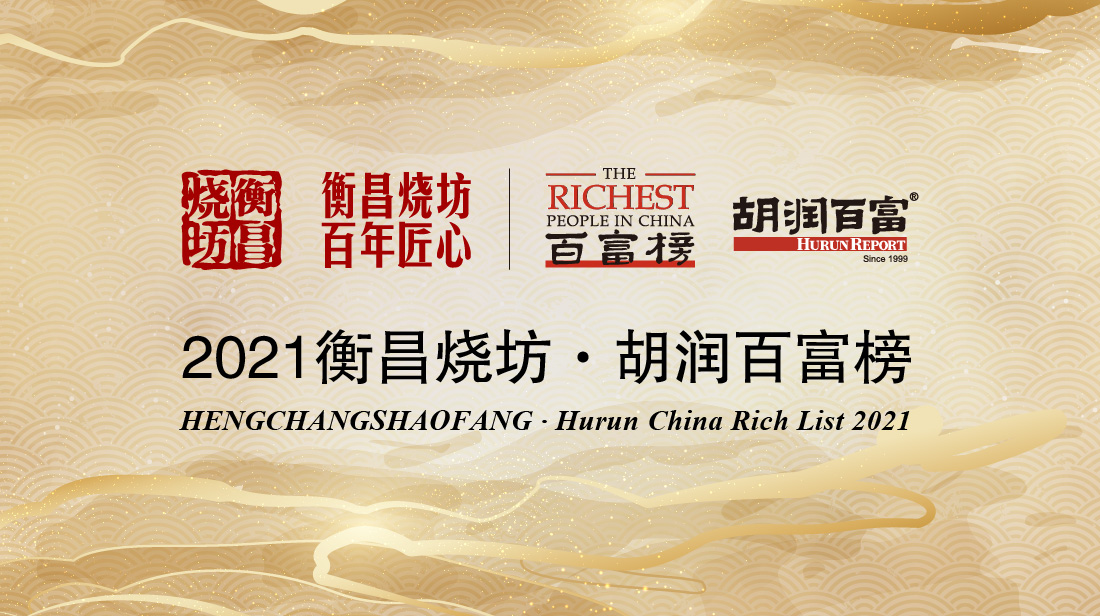 l The Hurun Rich List grew by 520 individuals or 22% to 2,918 individuals with wealth of CNY 2bn or more (equivalent to US$310mn), triple that of a decade ago. Total wealth rose 24% to US$5.3tn, six times that of a decade ago.
l China added almost one dollar billionaire a day for the past year, adding 307 to a total of 1,185 billionaires, five times that of a decade ago.
l 'Bottled Water King' Zhong Shanshan, 67, grew by US$3.9bn to become China's richest man for the first time with US$60.6bn.
l TikTok founder Zhang Yiming, 38, tripled his wealth last year, overtaking Pony Ma of Tencent and Jack Ma of Alibaba to second place with US$52.8bn.
l 'Battery King' Zeng Yuqun, 53, of CATL, tripled his wealth to take him to third spot with US$47.4bn. New energy is the big story of the year, with 8 of the 10 fastest risers related to new energy, led by Zeng, and including EV makers Wei Jianjun & Han Xuejuan of Great Wall Motor and Wang Chuanfu of BYD, solar makers Liu Hanyuan of Tongwei and related miners, including Luo Liguo of Hesheng Silicon, up 6.5 times to US$21.7bn.
l Impact of antitrust drive. Pony Ma, 50, was down 19% to fourth with US$49.2bn, on the back of crackdown on video gaming targeted at children. Jack Ma, last year's richest person, dropped down four places to fifth with US$22.6bn, after Ant's listing was suspended and Alibaba was fined a record US$2.8bn for monopolistic practices. Wang Xing of Meituan also dropped by US$3.1bn to US$22.7bn.
l For the first time, real estate did not have a single entrepreneur in the Top 10. Evergrande's Xu Jiayin, who topped the list in 2017, fell to 70th from 5th last year, with US$11.3bn. Another developer Wang Wenxue of China Fortune Land was down 88% to US$930mn. The Top 2 from property are Yang Huiyan, 40, of Country Garden, and Lee Shau Kee, 93, of Henderson Land, at 11th and 15th with US$28.7bn and US$26.4bn.
l Education was badly hit. Home tutoring provider Zhang Bangxin of TAL Education was down 94%, losing US$14bn, to US$890mn.
l A former Top 5 entrepreneur, corporate raider Yao Zhenhua fell off the list completely, making Yao the biggest faller this year, losing US$15bn after having his shares were frozen. Zhang Jindong also saw his wealth down over US$10bn, after Suning shares were frozen.
l Sports brands did well, with the Beijing Winter Olympics around the corner, led by Zhang Congyuan, 73, of sports shoe maker Huali Industrial with US$13.7bn, as well as the founders of Tebu and Anta.
l Semiconductors had a strong year, on the back of a surge in demand from cars and mobiles. Yu Renrong, 55, of Will saw his wealth increase 45% to US$12.4bn.
l 326 were 40 or under, up 70. Zhang Yiming was the richest self-made person under 40 with US$52.8bn, followed by Li Auto's Li Xiang, 40, whose wealth rose 63% to US$6.06bn.
l 28 were 30 or under, up 1 on last year. Two are self-made: Nio Nie Yunchen of milk tea brand Heytea with US$1.24bn and Lu Jianxia, 28, who set up Manner Coffee chain with husband Han Yulong and today is worth US$540mn.
l Shanghai was the fastest-growing city, adding 78 in the year to 294, closing the gap with third-placed Shenzhen, which had 301. Beijing is still the city with the most entrepreneurs on the list, with 341, up 16. Hangzhou remained fourth with 170, up 15. Hong Kong came in at 5th with 151, up 89. Guangzhou was 6th with 112, down 5. Suzhou ranked 7th with 92, up 22. The Top 7 cities accounted for half of the list.
l Only 4% or 122 individuals inherited their wealth. 60% are from Taiwan and Hong Kong, with 41 from Taiwan and 28 from Hong Kong, followed by 9 from Guangdong, 8 from Zhejiang and 7 from Shanghai. "96% of the Hurun China Rich List is first generation self-made wealth," Hoogewerf said.
l 26% are women, up from 24.9% last year. 6 out of 10 are self-made. China's richest woman is Yang Huiyan, 40, of real estate developer Country Garden.
l For the first time, the Hurun Rich List includes Hong Kong, Taiwan and Macao, resulting in 197 making the list for the first time.
l 4 died last year: Lin Qi of Youzu aged 39, Zuo Hui of KE aged 50, Li Wenda of oyster sauce brand Lee Kum Kee aged 92 and Xu Jingren of Yangtze River Pharmacy aged 77.
l Those born in the Year of the Rabbit continue to be the best performers, for an unprecedented 10 years in a row. Dragons and Snakes were second and third. Rats were still the worst performers, and this year's Ox were second to last.
(27 October 2021, Chengdu) The Hurun Research Institute today released, in association with premium baijiu brand Hengchang Shaofang, the Hurun China Rich List 2021, a ranking of the richest individuals in China, with a wealth cut-off of CNY 2 billion, equivalent to US$310 million. Wealth calculations are from 15 September. This is the 23rd year of the list.
This is a brief translation from the original Chinese-language press release, which can be found on www.hurun.net.
Hurun Research found 2,918 individuals spread across 200 cities. 151 live in HK, 87 in Taiwan, 19 in the US and 12 in Singapore. Their total wealth rose 24% to US$5.3tn. 1,748 entrepreneurs saw their wealth increase, of which 838 were new faces. 1,488 saw their wealth decrease or remain unchanged, of which 318 dropped off the list this year. The Top 3 cities with the highest concentration of entrepreneurs on the list were Beijing, Shenzhen and Shanghai, followed by Hangzhou, Hong Kong, Guangzhou and Suzhou.
Stock markets in China were relatively flat, with the Shanghai Composite up 7.4%, Shenzhen up 5% and the Hang Seng down 1.5%. Nasdaq was up 30%. The Chinese Yuan depreciated 5.3% against the US dollar.
Rupert Hoogewerf, Hurun Report Chairman and Chief Researcher, said:
"A boom in new energy entrepreneurs, sparked by carbon reduction targets, as well as a spate of new listings of tech-related companies drove this year's Hurun China Rich List to records heights, adding more than 20%, both in terms of number of individuals and also total wealth. Another factor was adding in entrepreneurs from HK, Macao and Taiwan for the first time, however, with only 200, this was not a significant factor."
"100 times in 20 years. Twenty years ago, we could only find 19 individuals with US$300mn, but over the last 20 years, this has grown over 100x to almost 3,000, showing the growth of the Chinese economy. Based on this trajectory, expect the Hurun China Rich List to grow to as many as 5,000 within ten years. At the billionaire level, it is a similar story: Back in 1999, there were none, with the first wave of 100 coming through in 2007, before breaking through the 500-mark in 2015 and since Covid, almost doubling to 1185 known billionaires today, 50% more than the US, which has just under 700 known billionaires. At this rate, expect China to have 2,000 known billionaires by 2030."
"Half of this year's list are new faces compared with five years ago, showing the dynamism of China's private sector. New sectors and business models are changing the landscape of the list. 20 years ago the top 10 was led by agriculture, then 10 years ago it was real estate. Five years ago it was the second wave of internet platforms, whilst today it is new energy."
"Zhang Yiming of ByteDance at 38 becomes only the fifth person since our first rich list in 1999 to make the Top 3 whilst still in his thirties, the others being Ding Lei of Netease, Chen Tianqiao of Shanda, Huang Guangyu of Gome and Yang Bing of Euro Asia. Keep watching. Zhang Yiming is a likely candidate to become the next Number One in China, especially if he gets to list ByteDance."
"From the Hurun China Rich List, we can see which industries and business models are on the up and which are on the way down. New energy has had an amazing year, whilst real estate, home tutoring services, pork production and video gaming have had a bad year. Embattled Xu Jiayin of Evergrande was down US$25bn to leave him with just over US$10bn. In home tutoring, Tom Zhang Bangxin of TAL Education lost US$14bn to leave him with less than a billion, whilst Chen Xiangdong of Genshuixue lost US$12.5bn, dropping him off the list. Pork producers Liu Yonghao and Qin Yinglin were down US$8bn and US$5bn. Video gaming leader Pony Ma of Tencent was down US$10bn."
"The average 'Hurun Rich Lister' was born in 1965, started his business in 1994 at the age of 29, broke into the list in 2012 at the age of 47, and is now 56 years old with US$1.9bn."
"Succession is a hot topic in China. US$1.5tn of wealth is likely to pass down from the first generation entrepreneurs on the list to the nextgen over the next 20 years. The Lee Kum Kee family is the only 100-yr old family dynasty on the list."
"Common prosperity has become a hot topic, with several billion-dollar donations in the last few months. There is a clear trend of giving more from the 18 years of the Hurun China Philanthropy List and with this much wealth being created, expect to see donations rise bigtime."
"Many of China's best-known brands are founded by entrepreneurs on the list, be it services such as Wechat and Alipay, or physical products, such as Nongfu Spring or Midea."
" 'Hidden heroes' is a common term to describe B2B tycoons such as Zeng Yuchen of battery maker CATL or Chen Jianhua of textiles maker Hengli."
"14 individuals born outside of China made this year's list, led by four born in Singapore and two from each of Indonesia and Denmark."
"The start-up ecosystems of Beijing, Shenzhen, Shanghai, Hangzhou, Hong Kong, Guangzhou and Suzhou are particularly good. With so many entrepreneurs from the Hurun Rich List living in these cities, this is a great help to young entrepreneurs, because entrepreneurship is contagious."
"Business associations, along with alumni networks, are amongst the strongest networks for China's entrepreneurs, led by those from Zhejiang and Guangdong merchants. These two are special in that they have several successful regional associations, such as those from Wenzhou and Ningbo in Zhejiang, and Chaoshan and Hakka from Guangdong."
"In the past, I estimated that for every one rich lister we found, we might have missed two, but this year, as there is more transparency in the market, I believe this ratio be dropping. Whilst we found just under 3,000 individuals that made this year's list, I estimate there to be a further 4,000 that we have missed, the bulk of which are low-key. A small percentage, however, goes to extraordinary lengths to hide their wealth."
"Xiaomi's Lei Jun, 360's Zhou Hongyi and TCL's Li Dongsheng are three entrepreneurs with a growing social media presence. Lei has 23 million fans on Weibo, Zhou 12 million and Li 10 million."
"Hurun Report has been promoting entrepreneurship through its lists and research since 1999. The rich list is annual snapshot of China's private sector. The stories of these entrepreneurs tell the story of China's economy. I would like to thank our title sponsor premium baijiu brand from the Maotai region Hengchang Shaofang, for working with us for the second year running."
Zhang Jiahao, President of Hengchang Shaofang, said: "We are delighted to promote entrepreneurship by supporting the respected Hurun China Rich List for the second year running. Hengchang Shaofang is a premium jiangxiangjiu baijiu from the Moutai region with a 100 year heritage."
Top 10
4 new faces made the Top 10, led by Zhang Yiming, and followed by Zeng Yuqun, Wei Jianjun & Han Xuejuan and Li Ka-shing. The threshold for the Top 10 was US$30bn, down US$600mn from last year.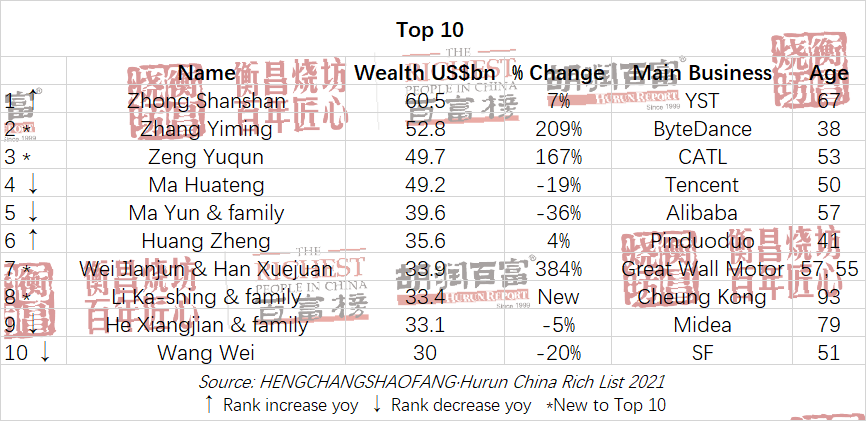 Zhong Shanshan, 67, topped the list for the first time with US$60.5bn. The market value of Nongfu Spring and Wantai Bio, his two listed companies, grew by 10% and 40% over the last year. Both listed companies are held by Zhong's main company YST. Nongfu Spring is ranked 255th in the 2021 Hurun Global 500.
Zhang Yiming, 38, tripled his wealth to shoot him up 28 places to 2nd with US$52.8bn. Last year, ByteDance's revenues doubled and its monthly active users hit 1.9 billion with 110,000 employees. In May of this year, Zhang announced that he would step down as CEO, a role taken over by co-founder Liang Rubo. ByteDance ranked 30th in the 2021 Hurun Global 500.
Zeng Yuqun broke into the Top Three with US$49.7bn, an increase of US$29bn, up 21 places from last year. With a market cap of around US$200bn today, CATL had sales last year of US$6.8bn and net profit of US$828mn. CATL ranked 50th in the 2021 Hurun Global 500. 7 shareholders made the Hurun list this year.
Pony Ma Huateng, 59, was down two places to fourth with US$49bn, down 19%. Tencent's market cap approached US$1tn in mid-February this year, but then dropped back and is currently just under US$600bn. Last year, Tencent's operating income was US$75bn, up 28%. Tencent ranked 6th in the 2021 Hurun Global 500. Six shareholders made the Hurun list this year.
Last year's richest person Jack Ma Yun's wealth fell by US$22.6bn, or 36%, to fifth with US$39.6bn. Alibaba and Ant Group ranked 9th and 83rd respectively in the 2021 Hurun Global 500. Alibaba and Ant have 26 shareholders on the list this year.
Colin Huang Zheng, 41, ranked 6th with US$35.6bn, up 2 places. In March, Huang resigned from the post of chairman, announcing he would focus on food and life sciences, as well as exploring new strategies. Pinduoduo's sales last year doubled to US$9.2bn. Pinduoduo ranks 93rd in 2021 Hurun Global 500.
Wei Jianjun & Han Xuejuan of Great Wall Motors saw their wealth up nearly five-fold, or US$27bn, to shoot the husband and wife team into 7th place with US$33.9bn, up 89 places from last year. Wei last made the Top 10 in 2013. Great Wall Motors ranked 326th in the 2021 Hurun Global 500.
Li Ka-shing & family ranked 8th with US$33.4bn. Li's two main companies, CKH Holdings and Cheung Kong, mainly invest in real estate, retail, telecoms, infrastructure, ports and energy. Younger son, Richard, 55, made the ranking at 155th place with US$5.9bn.
He Xiangjian & family, 79, was down 3 places to 9th with US$33.1bn. Despite the impact of Covid, Midea managed to grow sales by 2% to US$44.6bn. Midea ranked 198th in the 2021 Hurun Global 500. Midea has 5 shareholders on the list this year.
Wang Wei, 51, was down four places to 10th with US$30bn, down US$7bn or 20% from last year. Compared with the peak of this year, Wang's wealth has fallen by nearly US$23bn. In September, SF completed the acquisition of Kerry Logistics. 5 shareholders made the Hurun list this year.
The Top 10 of five, ten and twenty years ago
The Hurun Rich List illustrates the changing structure and scale of wealth creation in China. Twenty years ago, the it only required US$420mn to make the Top 10, and agriculture led the way. Ten years ago, the cutoff rose more than ten times to US$5.6bn, with the Top 10 engaged in real estate mainly. Of that Top 10, only He Xiangjian still makes today's Top 10. Five years ago, the cutoff doubled again US$11.6bn, led this time by internet entrepreneurs. This year, the cutoff has almost tripled to US$30bn, with a new wave of entertainment and new energy-related industries.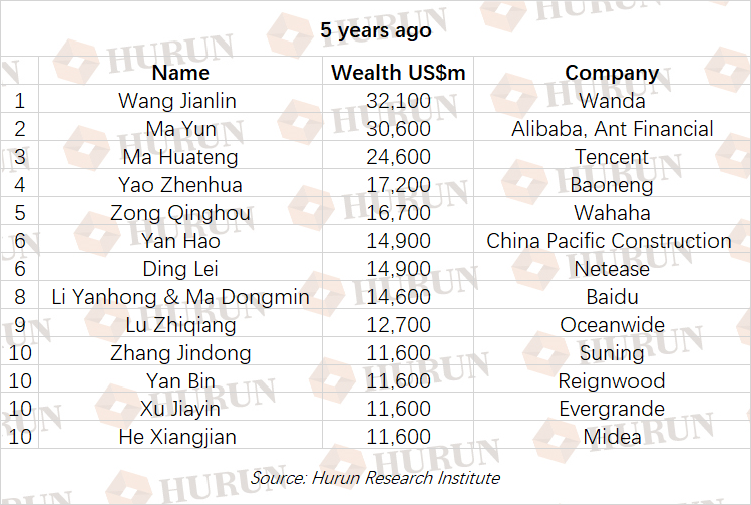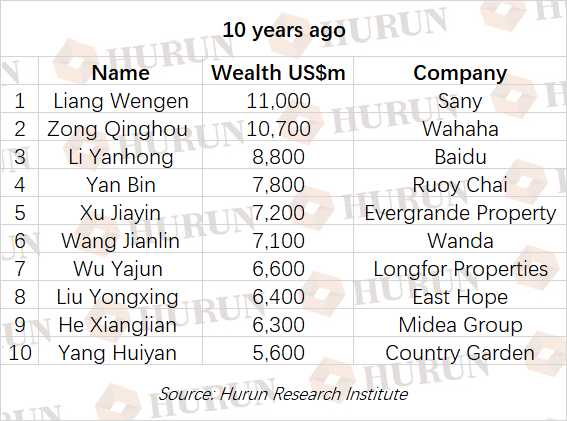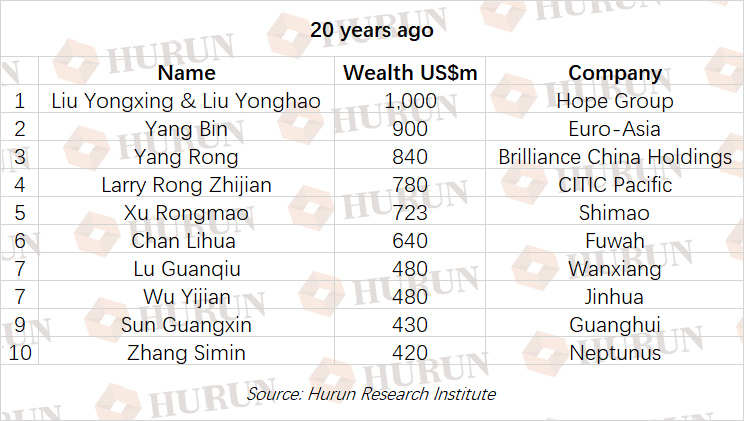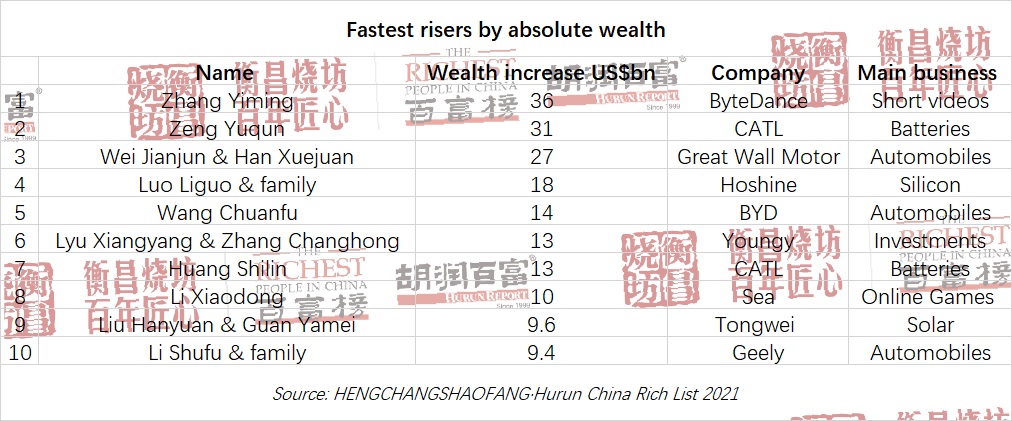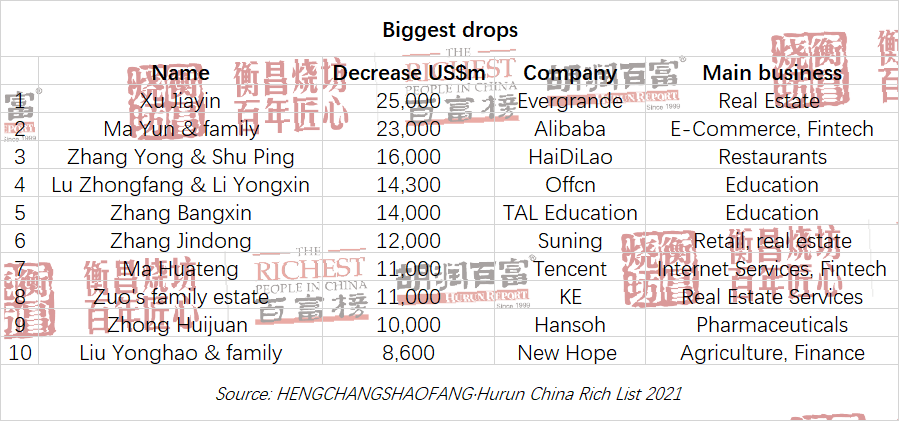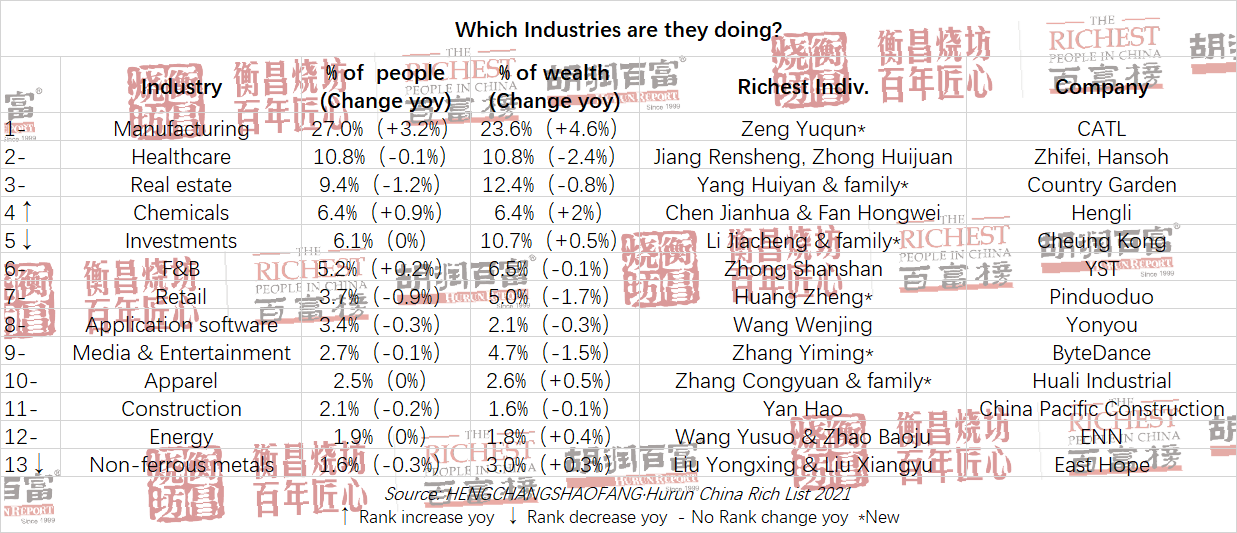 Residences
Beijing, Shanghai, Guangzhou and Shenzhen accounted for one third of the list.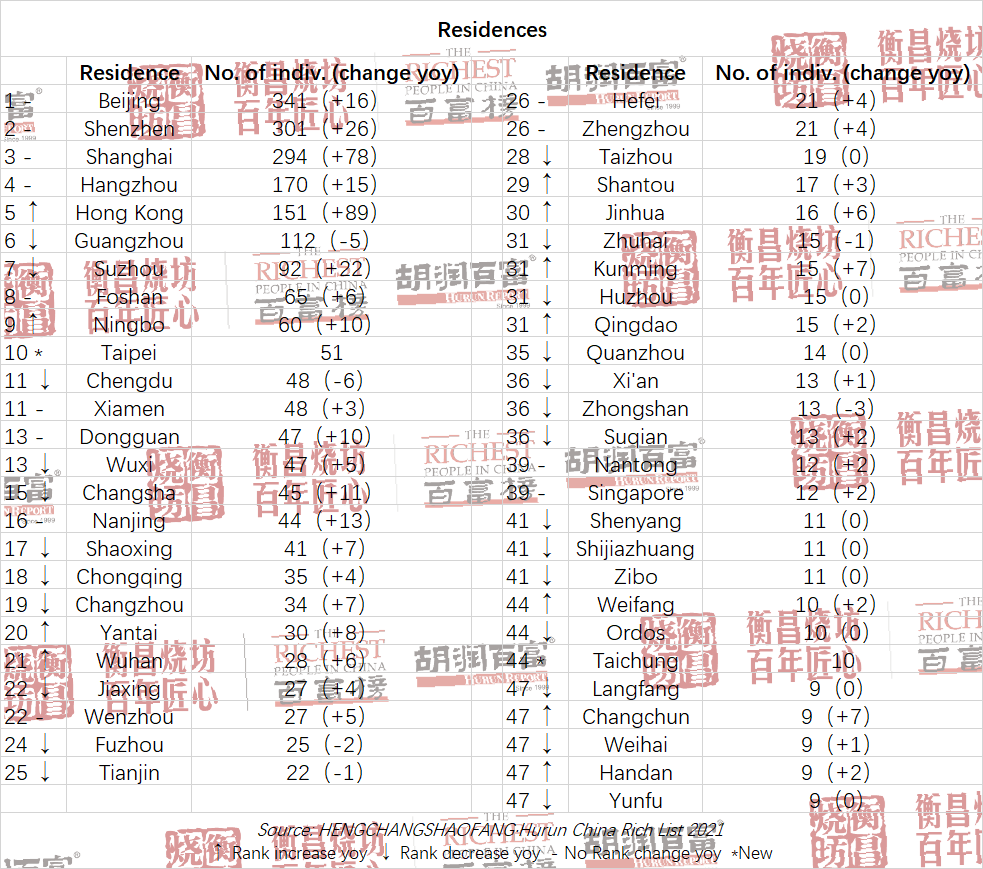 The company with the most people on the list
The 'Big Two' are Alibaba and Haitian, with 26 and 24 people on the list, followed by mobile phone makers Transsion and Xiaomi.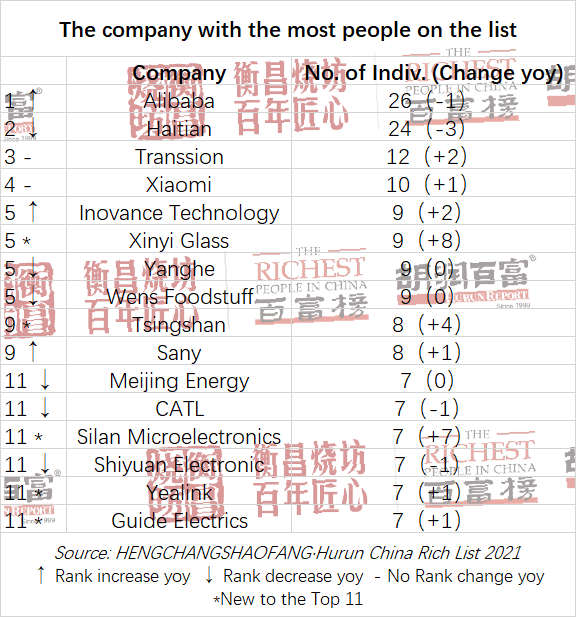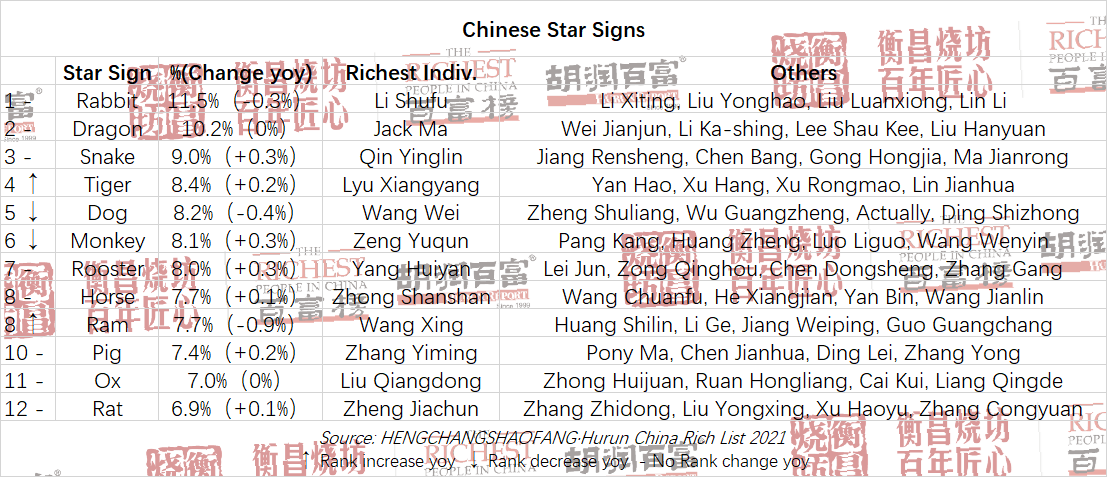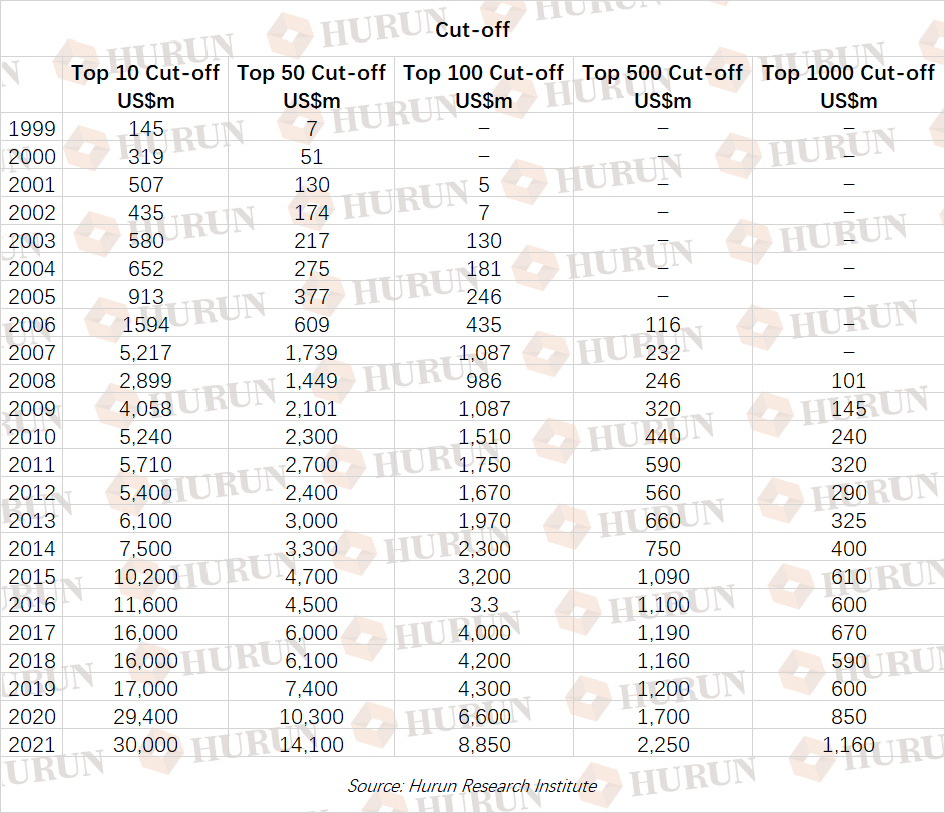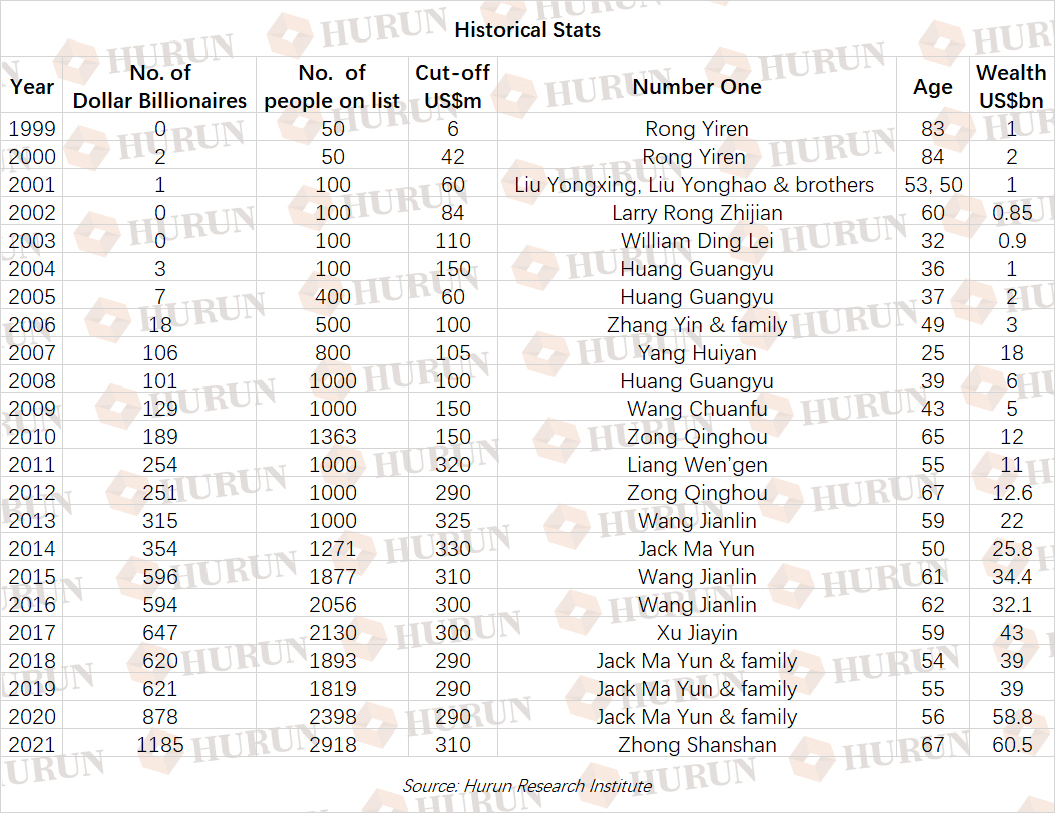 In trouble
In prison: Wang Zhenhua of Seazen.
Under investigation: Xiao Jianhua of Tomorrow Holdings.
Funding issues, share freeze: Some of seen their shares frozen including Yao Zhenhua of Baoneng, Ma Xingtian of Kangmei Pharmaceutical, Yang Keng of Blu-ray Group, Guo Jiaxue of Dongsheng Group, Wang Wenxue of China Fortune Land Development, Lu Zhiqiang of Oceanwide Holdings, Zhang Jindong of Suning, and Li Zhaoting of Dongxu Optoelectronics.
Divorce: Zhu Xingming & Zhong Jin of Inovance Technology, Lin Guofang & Chen Guohong of Fuanna.
Methodology
The List is a snapshot of wealth as of September 15. The exchange rate used for the US dollar was CNY 6.4, for the Hong Kong dollar was CNY 0.83.
Valuing the wealth of China's richest is as much an art as it is a science. We have missed some people, many of whom go to extraordinary lengths to hide their wealth, but we believe the Hurun Rich List to be the most serious attempt to identify China's top entrepreneurs and to measure their holdings. There are shareholders missing from the likes of ByteDance, Alibaba, Tencent, Huawei, Ping An and other big companies, where as little as 1/1000th ownership of the company is enough to make our cut. Our team of researchers has - for the twenty third year running - traveled the length and breadth of the country cross-checking information with entrepreneurs, local government, industry experts, journalists, bankers and regulators, as well as previous years' databases. For non-listed companies our valuation was based on a comparison with their listed equivalents using prevailing industry Price/Earnings ratios.
This year we added in entrepreneurs from HK, Taiwan and Macau for the first time, such that the 'China' Rich List reflects all those born and bred in China, no matter their nationality or place of residence today.
People that ought perhaps to be on the list, but where we cannot find reliable date include the likes of Haier's Zhang Ruimin, PingAn's Peter Ma Mingzhe, and Huawei's Sun Yafang, because they are hidden behind employee stock meetings.

About HENGCHANG SHAOFANG
Heng Chang Shao Fang, a brand of high-end Maotai-flavor liquor.
According to the Records of RenHuai County, Zhou Bingheng, a businessman from Guiyang City, created a "Heng Chang Distillery" in Maotai Village in 1929. Later, in 1941, Lai Yongchu took over Zhou's "Heng Chang Distillery" and renamed it "Heng Xing Distillery". The product was first named "Heng Chang Maotai" and later named "Lai Mao". In July 1953, Zhang Xingzhong, manager of Maotai Distillery, according to the notification of Finance Committee of Renhuai City: take over "Heng Xing" Distillery.
The old distillery site of Heng Chang Shao fang is now the "Mao-Tai Liquor Ancient Cellar" in the No. 2 producing department of Maotai Distillery, which is an important part of the cultural heritage group of Maotai Distillery's brewing industry.
In 1986, Zhou's descendants inherited the traditional culture of their ancestors and resumed production in accordance with the traditional formula and brewing technology, producing Heng Chang Shao Fang liquor.
In 2017, Global Gourmet Liquor Group Co., Ltd. acquired Heng Chang Shao Fang, operating the brand with a new marketing target and strategies , positioning itself as a high-end Maotai-flavor liquor.
The current distillery site of Heng Chang Shao Fang is located in the core production area of 7.5 square kilometers of Maotai Town. It strictly adheres to the production technology of Maotai-flavor liquor and produces 300 tons of high-quality Maotai-flavor liquor annually. Based the quota system , it produced and sold according to the output.
After three years of marketing cultivation, the annual sales of Heng Chang Shao Fang exceeded 500 million yuan, becoming one of the fastest growing and representatives brands of high-end Maotai-flavor liquor .
Heng Chang Shao Fang also continues to upgrade the liquor distillery,which makes it become the most luxurious liquor distillery in China, integrating brewing, sightseeing, accommodation, catering and experiencing, and becoming a new landmark of Maotai Town.
Honors:
1. In 2017, won the Sensory Quality Award of the National Liquor Judges of China.
2. In 2019, won the Tax Contribution Award of the Fourth Red Sorghum Award in Zunyi city.
3. In 2020, won the Golden Award and the 2020 High-end Maotai-flavor Liquor Award.
4. In 2020, won the China Liquor Qingyun Award for Year's High-end Product.
About Hurun Inc.
Promoting Entrepreneurship Through Lists and Research
Oxford, Shanghai, Mumbai, Sydney
Established in the UK in 1999, Hurun is a research, media and investments group, which generated 8 billion views on the Hurun brand in 2020, up 50% year on year, on the back of providing lists and research reports.
Best-known today for the Hurun Rich List series, ranking the most successful entrepreneurs in China, India and the world, Hurun's other key properties include the Hurun 500, a ranking of the world's most valuable companies, and the Hurun Unicorn Index, a comprehensive listing of the world's start-ups worth US$1bn or more.
Hurun provides research reports co-branded with some of the world's leading financial institutions, real estate developers and regional governments.
Hurun hosted high-profile events in the last year across China and India, as well as London, Paris, New York, LA, Toronto, Vancouver, Sydney, Luxembourg, Istanbul, Dubai and Singapore.
For further information, see www.hurun.net.
For media inquiries, please contact:
Hurun Report
Porsha Pan
Tel: +86-21-50105808
Mobile: +86 139 1838 7446
Email: porsha.pan@hurun.net
Mika Wu
Tel: +86-21-50105808
Mobile: +86 136 8189 6898
Email: mika.wu@hurun.net